When a need becomes an ecumenical effort
The K-Mart in Wellsville, NY closed in March 2019.  The Salvation Army thrift shop also closed a little later this year because they could not find space to rent.  That left all of Allegany County a retail desert.  People in this area of limited income or without a reliable vehicle have no place to buy shoes, boots, coats and all the other things that these places supplied.  The dollar stores don't fill the gap.  St. John's Episcopal Church in Wellsville, NY responded to this situation using a portion of their Maundy Thursday offering, setting aside funds to purchase sneakers for visitors who needed them. The result was 13 pairs of sneakers purchased and delivered in the spring. 
Grace United Church (also in Wellsville) offered to help with purchasing sneakers for school kids too. This ecumenical effort led to a connection with the local schools and another 13 pairs of sneakers to children for the summer. 
In September, St. John's, Wellsville held a winter clothing giveaway, and several other churches in town followed suit. 
At Convention 88 the Rev. Carol Stewart of St. John's, Wellsville shared their efforts with the Very Rev. David Hefling at St. John's Canandaigua.  David called Carol the next week to say his congregation would supply 25 coats, and later increased that number.  Now, every child in the Wellsville schools that have a need has been given a coat and/or boots.
 Dr. Kevin McCormick, from St. John's, Canandaigua, delivering the coats to Rev. Carol Stewart, St. John's, Wellsville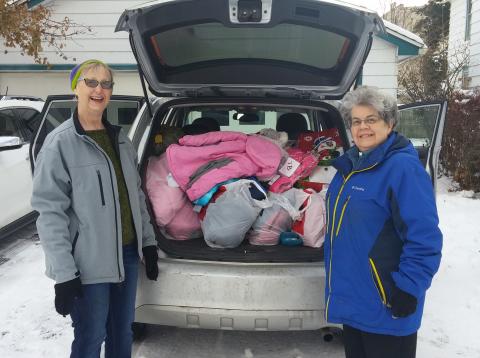 Pat Cizdziel and Rev. Carol Stewart of St. John's Wellsville accepting the haul from St. John's Canandaigua
Note: If anyone has retail management experience and can help find a bettter way to supply ongoing needs in a relatively low-income community, Rev. Carol Stewart would be thrilled to hear from you!