Rev. Benson Receives Award
The Rev. J. Brad Benson, rector of St. Thomas' Episcopal Church in Bath NY was presented the Works of Love Award at the Catholic Charities of Steuben Awards Dinner, that included representatives of Turning Point, this past week. The Works of Love Award recognizes the extraordinary effort of a member of the faith community who collaborates with CCS to act on social justice issues and serves the most vulnerable in our community. While Father Brad has done a lot for Turning Point – he has also done a lot for the community.  He has been instrumental in organizing various unifying events and groups such as the Bath Community Outreach Forum which is working to address housing issues and the need for a community center; the No Hate Rally which brought together people of all faiths to show love for all types of people; The Candlelight Vigil for Las Vegas to help people mourn and unite our community; a Block Party that brings together the public, law enforcement, first responders and organizations; along with many more events.  The Turning Point service priority for Catholic Charities of Steuben stabilizes families in economic crisis and supports them as they strive for self-sufficiency. As a convener of the local poverty coalition, Turning Point works to connect people living in poverty with resources of opportunity that can help them turn a corner in their lives.
Father Benson received a second award on behalf of his parish, which was the top fundraiser for Catholic Charities in their spring walkathon. The parish raised over $2,300 toward the food pantry.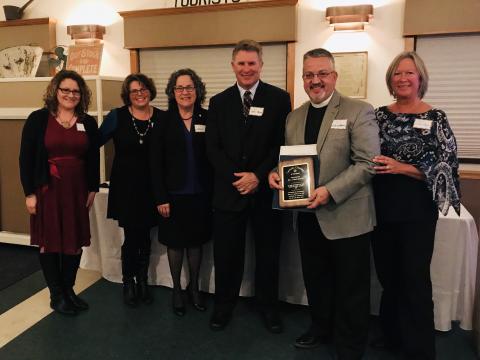 (From Left: Turning Point Assistant Director Theresa McKinley, Turning Point Director Lynda Lowin, Sharon Sitrin-Moore from Senator Tom O'Mara's office, Catholic Charities Steuben (CCS) Board Chair Gary Pease, Rev. J. Brad Benson, and CCS Executive Director Laura Opelt