Mission Spotlight: Tent Revival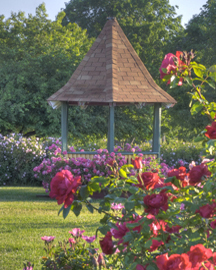 Revival and Renaissance in the Rose Garden!
August 22, 23, 24  4:00 - 8:00 p.m.  
Maplewood Rose Garden  
250 Maplewood Avenue  (the intersection of Lake Ave and Driving Park in the City of Rochester)
For three evenings in August, there will be a tent revival in the City of Rochester! Co-sponsored by Church of the Ascension and the Episcopal Diocese of Rochester, each evening will be unique. There will be gospel music, great preaching, and a whole lot of Holy Spirit. We'll have food trucks to feed your body and worship to feed your soul. Please come join us! If you are interested in singing in the Revival Choir, there will be a rehearsal on Monday, August 21, at 7 p.m. at Church of the Ascension. You can also come to the tent at 6:15 each evening to rehearse before the service begins at 6:30. There will be activities for kids and youth led by Nora Bradbury-Haehl (Director of Rise!) and Keisha Stokes, Youth Missioner for the Diocese of Rochester.
Congregations are encouraged to carpool.  You can park at Church of the Ascension (2 Riverside Street at the corner of Lake Avenue and Riverside) and be shuttled over to the Rose Garden, since there is limited parking at the Rose Garden. Please join us! 
For further info, visit Church of the Ascension's Facebook Page www.facebook.com/AscensionRochester, or call Dahn Gandell at (585) 233-3100.
For past Mission Spotlight ministries, click here