Labor Day Parade Celebrating Farmworkers
FRIENDS:  On Monday, September 2, you're invited to the tenth Rochester Labor Day Parade march to celebrate farmworkers and passage of the Farmworker Fair Labor Practices Act.  The Bill was signed into law in July by Governor Cuomo. Parade starts at 11 a.m. sharp.
The location for lining up for the parade has changed.
We will line up on Lawrence Street off of East Ave by 10 am. Please be prompt.
Parade organizers have placed us at the start of the parade to honor farmworkers and passage of the Farmworker Bill. 
Organizers say we can park in the parking lot at 30 N. Union St. (the Rochester Labor Council office building) located between N. Union and Lawrence Streets.
Bring a sign with multi-color streamers and/or balloons attached to it.  For possible sign messages, (JUSTICE FOR FARMWORKERS WON! Thank you New Please bring a sign (see photo below) that says "Justice for Farmworkers Won, Thank you New York State."  (or congratulations, FWs, etc.)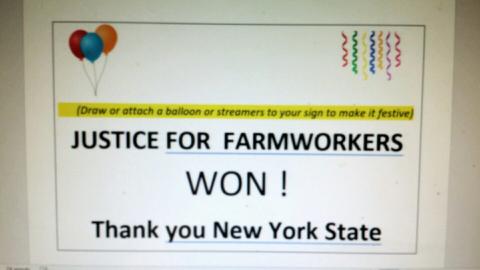 The signs I always bring no longer apply. We encourage you to dress up your sign with streamers or balloons; be creative. We're celebrating farmworkers and their victory with many colors (de colores) and expressing thanks to everyone in New York State who worked to make this victory possible.  I will have multi-color crepe paper and tape available. All are welcome...old-timers, first-timers, families, vets, youth groups, folks from all over New York State, etc.
Other things you might bring are water, sunscreen, sunglasses, a hat, and a red and white bandana.  Drums or bongos welcomed.  Questions?  Contact Marilu Aguilar at 880-2847 or email at maguilar9855@yahoo.com.
THE FARMWORKER FAIR LABOR PRACTICES ACT IS SIGNED INTO LAW, 7/17/19 !
FROM THE CAMPAIGN: "A historic day in New York State as Governor Andrew Cuomo signs into law the #FarmworkerFairLaborPracticesAct! We cannot say it enough, but thank you to everyone who made this day possible! Without your relentless effort, we would not be able to have this day and enter into a new era where dignity and justice will finally make its way into the fields of New York State and impact the lives of so many farmworkers." 

Thank you, Kerry Kennedy, from the Robert F. Kennedy Justice and Human Rights Center

FROM GOV. CUOMO:  "I was proud to sign the Farm Workers Bill into law earlier this week.  Farmworkers will finally, finally have the same protections that other workers have had for 80 years. This a milestone in the crusade for social justice.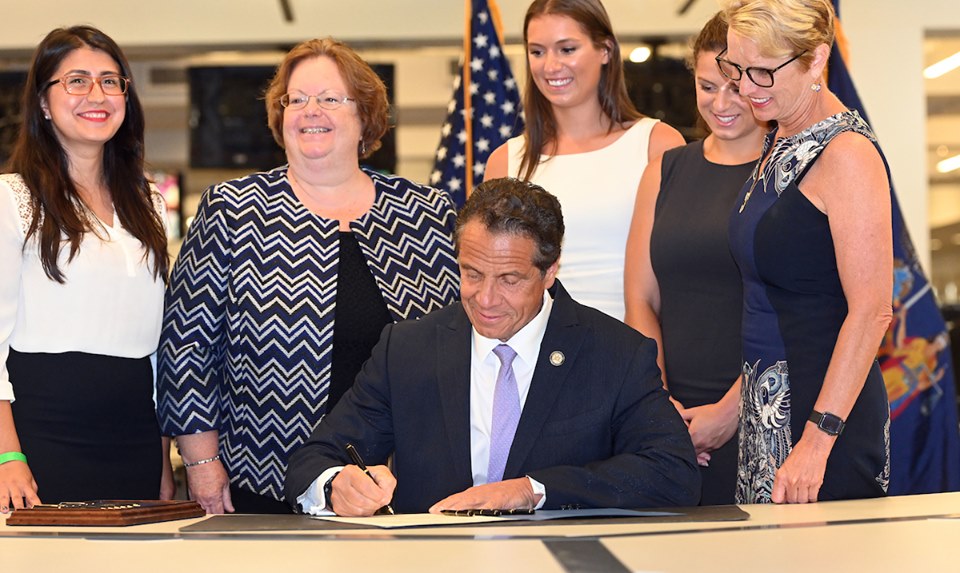 (Left to right:  Senator Jessica Ramos and Congresswoman Cathy Nolan who were awesome to witness as they defended the Bill on the floor.  Kerry Kennedy and her daughters.)