A Celebration of New Ministry with The Rev. Leslie S. Burkardt
It was a beautiful day on Saturday September 9th for the Celebration of New Ministry - the official liturgy where Bishop Singh installed Amma Leslie Burkardt as the 11th Rector of St. Thomas Episcopal Church in Rochester, NY!
Participants in the service included The Rt. Rev. Dr. Prince G. Singh, The Rev. Canon Michael Buerkel Hunn, The Rev. Canon Johnnie Ross, many other clergy.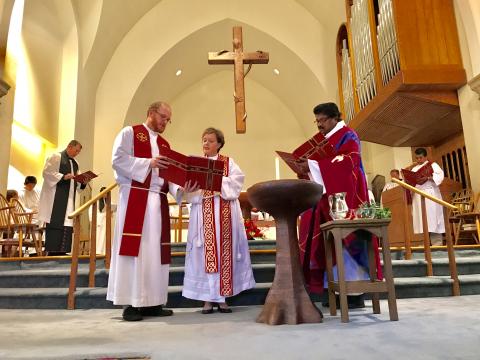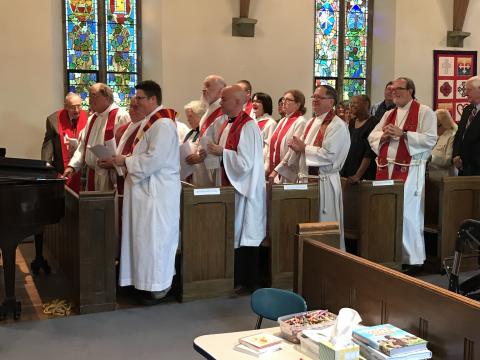 The Rev. Leslie reflected: "People of faith make reference to "God moments"- meaning moments when we sense, feel, experience God's love and presence among us.  No doubt there are moments in time, places and conversations that we can point to that helps us see that the living God is real. Theologian Howard Thurman in his book "Jesus and the Disinherited" invites us to be lovestruck by one another.  As we are lovestruck by each other, we can more fully share God's abundance and reconciling love with our families, friends, neighbors and world. It is this love that draws us, the people of St. Thomas' and me as their Rector, together.  It is this love that is our hope for our life together and our hope for the world.
I am excited to be part of such a strong, vibrant, faithful community of love. I anticipate God will continue to do some amazing things as we grow in our discipleship of Jesus Christ and allow love to guide our way.
I'm so grateful that my mentor and friend, The Rev'd Canon Michael Buerkel Hunn is with us to celebrate and proclaim the Good News to us on this special occasion."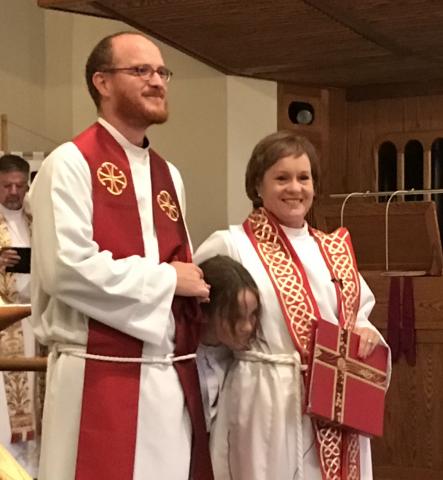 A gathering and lunch followed in the service in the parish hall.
Background information on Rev Leslie:
Amma Leslie's family moved to the Rochester area in late August of 2015 from Corpus Christi, Texas. Jay, her husband, is the Assistant at St. Paul's Episcopal Church on East Avenue. They have a 7 year old daughter, Norah, who is fabulous, and a dog, Nita who is an important part of their family.
Leslie's professional experience is both broad and deep. She served as an associate in parishes in Corpus Christi, TX and Greensboro, NC, and served as Rector in North Carolina and Interim Rector in Texas. She has formal training in: Interim Leadership, Meditation and Reconciliation in Family Systems, Appreciative Inquiry and Stewardship Formation. She is passionate about Preaching, Teaching, Spiritual Formation and imaging creative ways people of faith gather, grow and serve the world.
Spiritual practices such as yoga and running are key to her health and life with God. She enjoys writing, spending time with her family, volunteering in their daughter's classroom when possible and spending time outside.