Comedy Hypnotist
Globalpalooza!
Dear Friends,
With the encouragement of Diocesan Council's leadership, we are starting a new tradition in our Diocese - "Globalpalooza"!   Our Diocese is committed to supporting several ministries of loving service to our neighbors in need. Many of these are our global neighbors. Globalpalooza is an evening of fun for the whole family and its purpose is to raise friends and funds to support the Sustainable Development Goals that the United Nations has helped us identify and support. Proceeds will go toward supporting this commitment of the Diocese.
This initial public fundraiser will be a fun-filled evening provided by the nationally known hypnotist, Jason Christopher.  Fear not!  His show is delightful and does not ridicule or make fun of anyone.  He has performed for major corporations across the United States, in such cities as Las Vegas, Los Angeles and New York City. Kids love his show too!  The doors will open at 6 pm, so that everyone can look at displays of global projects presently supported by our Diocese.   
I ask you to spread the word within your parish through service announcements, and electronic tools, such as your Enews, website Events section, bulletins and social media pages.  
So, come on out on Jan. 13th and have a great evening of entertainment while supporting projects of loving services to our global neighbors!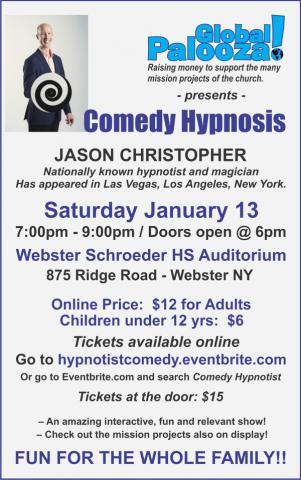 Salaam, Shalom, Shanti, Peace!
Bishop Prince Singh