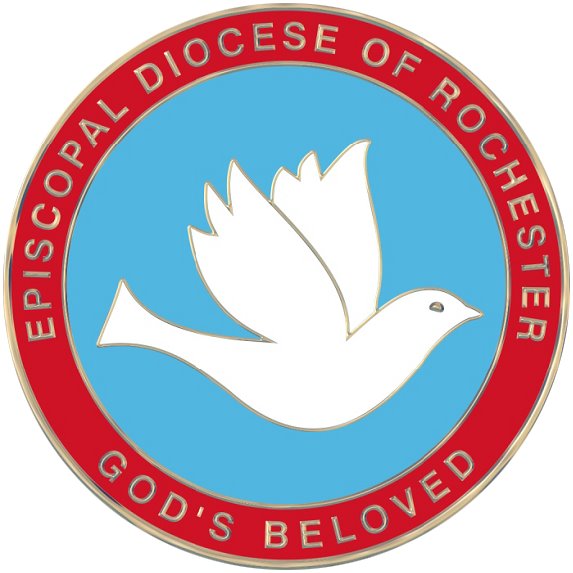 Dear Saints,
We are in week eight of the pause we initiated on March 15. All of us were able to make the shutdown effective the very next Sunday. Looking back, it seems like ages before we did this, and what's amazing is that we pivoted promptly. We announced one Sunday and shut down the very next. Let me thank you for your cooperation in making this happen in real-time with compassion and clarity. By that collective and loving action, we limited community spread. We are here to fight another season because of that. So, thank you again! We mourn the dead across our world and grieve with all who have lost loved ones, including pets. I just spoke with Rev. Carol Stewart, whose mother Jennie Wendt, died. May her soul and the souls of all the departed, through the mercy of God, rest in peace and rise in glory! Alleluia! Amen.
At this time, I would like to make two announcements and highlight a "thank you."
First, I am thrilled that we will ordain Keisha Marie Stokes and Greg J Kremer as transitional Deacons on May 17, 2020. With appropriate COVID protocols, the entire service will be live-streamed for our Diocesan participation. I would like to see as many of our Diocesan community, the body of Christ, tuning in for this first Diocesan-wide liturgy since the lockdown as a sign of our unity! It is at 3 pm US Eastern standard time. You will receive a link to sign in. We invite you to do a 10-second video on your phone with an encouraging word on how you WILL uphold them. Please email this to Steve Richards or text to 585 773-7574 by May 13.
Second, I am appointing a Thriving in the COVID world Task Force to help us thoughtfully navigate this new normal over the next few years. We are looking at three subgroups within the TF. 
1. To help with pastoral re-entry, in slow motion, to in-person worship
2. To help nurture and sustain our emergent liturgical and sacramental life
3. To help nurture and sustain the relational oneness and health of our Diocese as well as offer overall strategic advice
Third, let me highlight some gratitude. We need the church family more than ever for each other and especially for the community. Understandably, not everyone is able to support the church financially at this time. Thank you for honoring your regular pledges to the best of your ability. Your financial support keeps us alive to serve our community. We continue to be grateful to all essential workers who put themselves out there and pray for God's protection as they live with sacrificial love and courage. Please remember to thank them and your lay leaders, deacons, and priests who are praying and working selflessly! Let me also express my heartfelt gratitude to all who are giving generously to the Bishop's Appeal, which is helping support local and global emergencies in a timely manner. So far, you have helped me write checks to support local food and care ministries, clergy discretionary funds, individual needs, our companions in Central Tanganyika, and those we know who are impacted by hate crimes toward Asian Americans. Thank you! Thank you! Thank you!
Here's the clarity we have gleaned from the wisdom of leaders across sectors at this moment in time.
1. We are in this for the long haul, for a viable vaccine and herd immunity of 50 plus %. Spiritually, we also want to birth a new church that is even more truly inclusive, accessible, just, generous, and marinated in God's word. 
2. We are postured to continue online worship at least until June 30th. We will keep evaluating this timeline and adjust accordingly based on facts.
3. Our now new normal is: 
• stay in place
• wash your hands with soap 
• wear a mask when you're with people outside your household
4. We will un-pause thoughtfully, slowly, and differently from the way we shut down in March. 
5. We will come through this together, better, and gentler.
If we are to be successful, we must continue to take personal responsibility seriously. In the meantime, we can prepare to experiment with small and appropriate in-person gatherings and worship in July. We will be able to say more about the number of people, etc., once the task force has met and appraised our contexts based on changing realities. The good news is that we don't have to reinvent the wheel, so to speak. Here is some of the wisdom around the church to give us an idea of what this might look like. 
Turning towards the Future with Caution and Hope
Both of these models recognize that sharing Holy Communion would continue to put us at risk, even in phase 2. While one model leaves open the possibility for restrictive practices around the Eucharist (Maryland, D.C., Virginia) the other (Wisconsin) leans more toward discouraging it. Your diocesan task force and I will work faithfully to discern where, on our own unfolding timeline, it might be safe to hold services of Holy Eucharist again. Until then, let us continue to respond to the hard reality of this pandemic with the same trust, creativity, and steadfastness that have defined our work and worship together in the past weeks. Most of all, let us open ourselves ever more deeply to the word of God as the bread of life.
True to our Anglican tradition, we are a people of Word and Sacrament. Over the past forty years—since the advent of the "new" prayer book—the Episcopal Church has increasingly become more of a Eucharistic Community to mark our sense of shared ministry. We have righty affirmed the sacrament of Holy Communion as our quintessential realization as the body of Christ, both materially and socially. Yet in the world of COVID, the Church has been reminded, out of necessity, what it means to be people not only of the Sacrament but also of the Word. 
Over the past eight weeks, we have been met with the invitation—and the challenge—to live not by bread alone but by every word that proceeds from the mouth of God! This has been a period of rebalancing. Morning Prayer, the Daily Office, and Ante (meaning before) Communion have led us ever more deeply into the Word of God, focusing exclusively on it, and dwelling in it. I see this as a wholesome growth opportunity. It is as though we were preparing for the marathon that lies ahead, by toning our spiritual muscles for deep dives into the word of God. Let us study scripture ever more faithfully. Let us flourish and be fed! Let us thrive in this season of the Word before (ante) communion? I would like to see more and more relevant and regular deep dives into God's word offered throughout the Diocese. A 100% to 200% increase in participation is a good sign. That would signal a new normal worthy of a significant realization during this historic pandemic. Let us keep the fast of Holy Communion while we feast on the Word for this season.
Our faith tells us that crises are seedbeds for transformation. Is this crisis an opportunity to go deeper in our understanding as followers of Jesus? Is it our opportunity to help birth a new church? Can we rise out of this global pandemic of destruction with fewer disparities? Is this our opportunity to combat the virus by vesting ourselves in an intentional pandemic of love? I close with my earnest prayers for you and your loved ones, and with gratitude for your prayers for my aunt who died. As we prepare for simpler graduations, I share with you a now popular meditation called the Great Realization. 
With affection,

Prince G. Singh