Three Diocese of Rochester Women Answer the Call
Five times a year Episcopalians reaffirm their Baptismal Covenant, promising to "seek and serve Christ in all persons" and to "strive for justice and peace among all people."
Direct service to those in need is one way of fulfilling one's baptismal vow and is typically the way that makes sense to most Episcopalians. However, equally important is public policy advocacy. The Bible calls us to "speak up for those who cannot speak, for the rights of all the destitute" (Proverbs 31:8). In this article the Diocesan Public Policy Committee pays tribute to three women who exemplify ways to answer the call to serve the needy and also to advocate for policies that will bring "justice and peace": Eileen Schmitt, St. Thomas' in Bath; Scarlett Emerson, St. Mark's in Penn Yan; and Carolyne Garman, St. Luke and St. Simon Cyrene in Rochester—all recently retired from their work with the Public Policy Committee.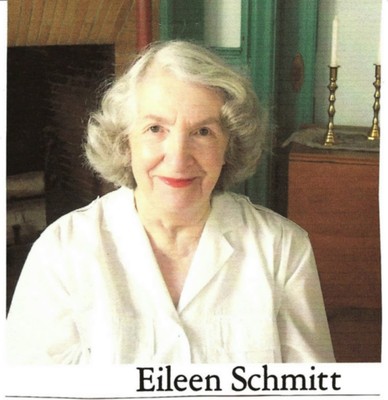 A survivor of the London Blitz, Eileen Schmitt joined the Women's Land Army, which helped keep up England's food production during World War II and for which she received a citation from Prime Minister Gordon Brown in 2008. One day, while driving a cart of milk cans for the Land Army, Eileen met her future husband, U.S. Army Sergeant Robert Schmitt. After the war she married Robert in Pittsburgh. Soon, St. Thomas' Episcopal Church began to benefit from Eileen's gifts after the Schmitts moved to Bath.
While a young girl in London, Eileen earned scholarships to two schools but chose to accept the one to the Gray Coat Hospital School for girls so that she could be "helpful and generous to people who are poor." From that time forward, this is precisely what Eileen has done.
From its inception in 1997 until 2009 when her health began to fail, Eileen served on the Board of Turning Point, the main agency in Steuben County providing emergency assistance to those in need as well as programs to assist them to move out of poverty. Eileen volunteered in their mentoring program for many years and encouraged others at St. Thomas' to be active at Turning Point. 
Besides directly assisting the needy, Eileen believes public policy advocacy is needed to reform the systems that necessitate charity. In 2001, she organized fellow Episcopalians, Presbyterians, Methodists, and Roman Catholics in the Bath community to form the Ecumenical Community Forum of the Southern Tier. Since its first forum opposing the death penalty, this group has presented forums on many public policy issues.
Along with her work at her church and in her community, Eileen served as a parish contact for the Public Policy Committee for over a decade, funneling information from the committee to her congregation and encouraging individuals to participate in the committee's diocesan-wide workshops. Now, at the age of eighty-eight, Eileen can no longer perform any of these ministries. Yet the folks she inspired continue the many works she began.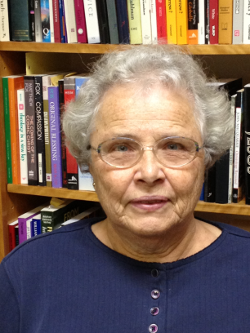 From 2001 until this past summer, Scarlett Emerson served the diocese well on the Public Policy Committee. During these years, she helped to research and write many of the committee's briefing sheets on issues and assisted with the resolutions presented at Diocesan Conventions. Paramount among Scarlett's concerns continues to be the need for immigration reform, but health care, poverty, and hydraulic fracturing also have received her careful study and articulation.
Like so many of her generation, the roots of Scarlett's involvement in advocacy for social justice stem from the 1960s when she lived in Philadelphia. Since moving to the Rochester area, Scarlett found her social activism increasing as she worked on the staff of Catholic Charities of the Finger Lakes for which she was Coordinator of Parish and Community Development, 1996-2005.
After joining the Public Policy Committee, Scarlett initiated a social ministry committee for her parish at St. Mark's in Penn Yan. The brochure she developed outlining the various works of this committee still serves as a model for other congregations. Besides leading her parish in social ministries, Scarlett has served on the board of the Keuka Housing Council and was chair of this group for six years. She continues to co-chair the board of Milly's Pantry, a local agency that ministers to the poor in the Penn Yan area. Currently, Scarlett is employed part-time on the staff of the Intercultural Center at Hobart/William Smith Colleges where she assists in the Center's advocacy on community issues.
Scarlett attributes two sources of inspiration for being involved in social justice: "I was raised by parents who were involved in our local community and who instilled in me the importance of fairness and generosity to and for all persons." All her adult life Scarlett has taken most seriously her Baptismal Covenant vow to "strive for justice and peace among all people."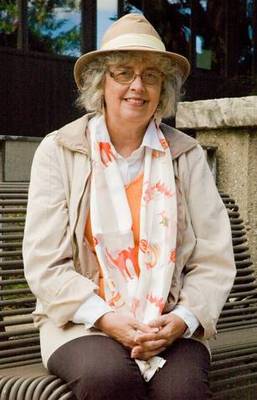 Since her retirement from teaching foreign languages in the Rochester City Schools, much of Carolyne Garman's volunteer work focuses on using her language skills to assist others. While teaching English to immigrants and refugees, she became aware of the many problems facing Haitians and Spanish-speaking people in the country and in the city of Rochester.
For the past four years, Carolyne has been teaching English to elderly Russians at the Jewish Community Center. All are either new citizens or hope to become U.S. citizens. When asked why she did this teaching when she was not paid for doing it and when she is not Jewish, Carolyne replied, "It does not matter that I am not Jewish. My faith requires that I seek God in all persons, and that I work for the respect and dignity of every human being. Immigrants gain more respect when they learn the new language."
Carolyne's calling to social justice led her to serve on the Episcopal Diocesan Public Policy Committee until last fall. After the earthquake that devastated Haiti in January 2012, she prepared a briefing sheet for the diocese outlining various ways people could respond to the Haitians' emergency and long-term needs.
Her social justice ministry with the diocese recently led Carolyne to become a member of the board of the Interfaith Alliance of Rochester (TIAR), where she has been involved in TIAR's immigration reform efforts, voter registration in low turnout, high poverty areas in the city, and advocacy for the service workers at the University of Rochester that resulted in a favorable outcome for the workers.
Of equal importance to Carolyne is her advocacy for racial justice.  The impetus for this comes from her many years as a member of the Beyond Racism book discussion group and her service for fourteen years on the Black History Committee at Franklin High School. 
May the commitments of all three of these women serve as inspiration and models for other lay people in the diocese to carry out their ministries to further justice for the poor and vulnerable.