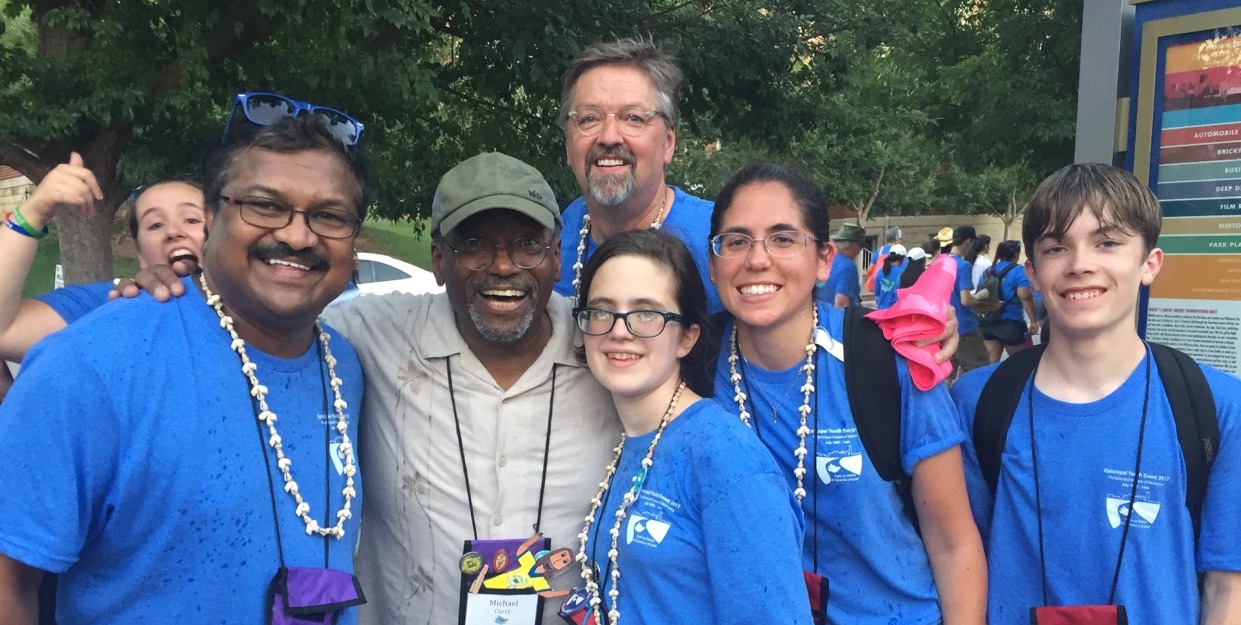 Dear saints:
Summer rains are here often saturating our part of God's vineyard. For many of us this is the part of the year when things are winding down and we are making time for rest, relaxation, and refreshment. I pray that you and your loved ones can do that. Roja, Eklan and I look forward to sometime away later in August. Let me remind you of a few happenings!
Launch of College for Congregational Development:
This summer is a busy one for several of us with one of the main investments of the year, the College for Congregational Development, which we will launch next week by the grace of God. Starting next Sunday, July 23, a fully registered week-long intensive on congregational leadership development will engage the first of two modules at the Notre Dame Retreat Center in Canandaigua. This strategic investment has emerged after years of partnering with congregations in the praxis of development and growth in our Diocese. Among other things, it will provide leaders with a common language that enables the use of greater discernment tools that are about following Jesus into our neighborhoods while traveling lightly. Eighteen of our congregations will participate in this year's launch along with teams from a few neighboring Dioceses. We welcome the team of excellent trainers from around the country under the leadership of Rev. Canon Alissabeth Newton, the Canon for Congregational Development in the Diocese of Olympia and Vicar of St. Columba's in Kent, WA, as they travel to us and provide leadership at this year's College. We are grateful for the leadership of Rev. Paul Frolick, the Coordinator of the College along with his team of local trainers-in-training, Mrs. Sarah Peters, Revs. Winifred Collin and Chris Streeter, without whose diligent investment of time and energy we would not be at this exciting threshold of transformation through the renewing of minds. I ask your prayers for this gathering of leaders as they meet, engage and practice healthy leadership in learning communities.
Launch of Pastoral Crisis Response Resource:
After months of discernment, I am happy to announce the launch of a diocesan resource to help us practice being beloved community, especially when we are rocked by the inevitable crises that hit us from time to time. Bad things do happen to good people and our preparation for these times can make the difference between chaos and community. I have appointed a team of gifted leaders from across the Diocese—the list is not complete yet—to help us in this ministry with Rev. Jay Burkardt at the helm. Please uphold them in your prayers as they offer themselves as a resource in this ministry of healing and reconciliation.
The 86th Convention of the Diocese of Rochester:  Communication to Convention Delegates


Please take a few minutes to read this letter regarding Diocesan Convention
"Tri-Wizard" Diocesan gathering (CNY, EDOR, WNY):
On August 24, 2017, I invite you to join us for an Evensong at 5 PM when we gather at St. Peter's in Henrietta to welcome the New Bishop of Central New York, Rt. Rev. DeDe Duncan Probe. The Bishop of Western New York, Rt. Rev. Bill Franklin, will be joining us as well! All three bishops and some of their staff will meet earlier in the day for some discernment on ways to collaborate better. The Evensong, where Bishop DeDe will preach, will be followed by an elegant garden reception. Please plan to join us in welcoming our neighbor Bishop, who is also the first woman Diocesan in the state of New York!
#EYE17:
I just came back from attending my first Episcopal Youth Event in Oklahoma. A team of five (Canon Johnnie, Keisha Stokes, Wyles Daniel, and Anica Harris) from the Diocese took a road trip and had an amazing experience of worship, learning, fellowship, solidarity, and much more. I learned so much from these 1300 or so young leaders who are already leading the Church in some innovative ways around peacemaking, evangelism, discipleship, leadership, inclusion, healing and reconciliation. Our Church is in good hands.
The reflections from two of our young people are on our website. Please take a moment to read them.
Finally, a word to our common life. We are living in times of rapid change in our common life. Recent world news gave us a glimpse into Intercontinental Ballistic Missiles (ICBM) as a threat to the whole world. It was ironic that the two top headlines a fortnight ago were the North Korean nuclear threat and the Reddit trolling incident. According to Dictionary.com trolling is: 
to post inflammatory or inappropriate messages or comments on (the Internet, especially a message board) for upsetting other users and provoking a response. 
to upset or provoke (other users) by posting such messages or comments. 
Harming another human being's image is what our Baptismal cautions us about. Regardless of whether it is physical annihilation or violent online behavior it is harmful to our common life.  "Respecting the dignity of every human being," is a call for the internal discipline of not damaging or destroying the image of another human being in the privacy of domestic conversations whether it is with a few "like-minded" persons or in the quasi-anonymity of social media. Scripture exhorts us to be stewards of one another (some examples: James 1:26, 4:11-12; Ephesians 4:29, 31, Colossians 3:8, Romans 12:19, Philippians 4:8). In a culture that has increasingly normalized destroying the image of others, as followers of Jesus, we must work on overcoming this tendency. Jesus was clear about this priority when he said, "By this shall all know that you are my disciples, if you have love one for another" (John 13:35). The practice of respecting the dignity of others is one of the clearest ways for us to live into the teachings of Jesus.
Summer joy and Blessings!
Prince