Dear saints,
There is so much going in our country and world that consumes so much of our thought, imagination and a whole lot more. Most of us feel helpless about the calamities around us along with an overwhelming sense of compassion fatigue, foreboding about major world conflict, etc.  It is only compounded by our own losses, like the loss our household experienced in our cat Julianna, who passed on after over eighteen years of gentle grace with us. I find myself reengaging one of my passions, cooking and washing dishes, as my own coping practice since these activities give me the illusion of having the ability to start and finish something good; a sense of creating a sanctuary of sorts.
This past weekend, I had the joyful surprise through a set of visitors from my previous parish in New Jersey. They showed up during a visitation with a baptism. It was a sheer joy to see these "kids," two of whom are now young adults going to school at RIT and one little one who is now a young lady in high school. They were in Sunday School when I last saw them, and they blessed Roja and me when we moved to serve among you in 2008. In the context of the Baptism that morning, they simply reminded me of the significance of ministry among our children and youth to the development, growth and vitality of our congregations. Here's a picture with their parents.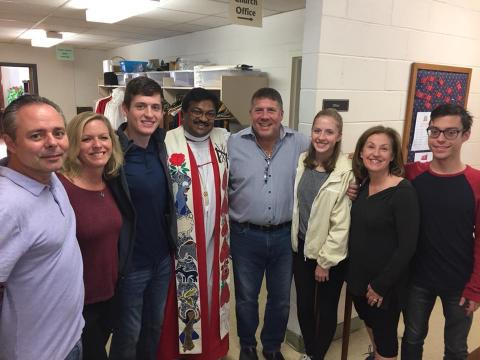 As we prepare to gather for our 86th Diocesan Convention at RIT this year, I am aware of the young people among us who are continuing their formation as followers of Christ. This convention is a significant one for many reasons. We will be voting to invite the South Wedge Mission into the Episcopal Diocese of Rochester as an Organized Mission. They bring with them many gifts, especially their identity as a Federated Congregation that is simultaneously Evangelical Lutheran and Episcopal. They will teach us many a thing about ways to reach out in the love of Christ to Millennials, among others. Pray for this work that God is doing in our midst.
The other reason this convention will be historic is because it is the first time in at least two decades that the Episcopal Diocese grew in its membership. By the grace of God, and only by God's grace, we grew numerically by 1.3% in 2016. This may not seem like much to some of us, but if you look at the trending data for this region, ours is a pretty unique journey. We are grateful for all our forbearers who planted seeds of faith that are now bearing fruit. We are grateful for all the lay and clergy leaders who are figuring out ways to make room for God to do the work of growing the church because that is the only way for a church to be. Our offering at Convention this year will be split between Good Shepherd, Savona's youth and children's outreach in the community and the youth initiatives in the Diocese of Alaska, under the guidance of Bishop Mark Lattime.
Therefore, my beloved, please join me in prayer, which is the core of our being, to give thanks and receive the encouragement that God is offering in our midst. May we be joyful that there are more people in our pews and in our missions than we started in 2015. May there be less conflict and more gracious harmony among us as we affirm this sign of encouragement from God. May we walk humbly with each other in these polarized times when dissent in almost a global addiction. Let us strengthen our bonds of affection as follower of the servant Christ who called us to embrace being faithful, humble and last as the most important aspects of following him into our neighborhoods.