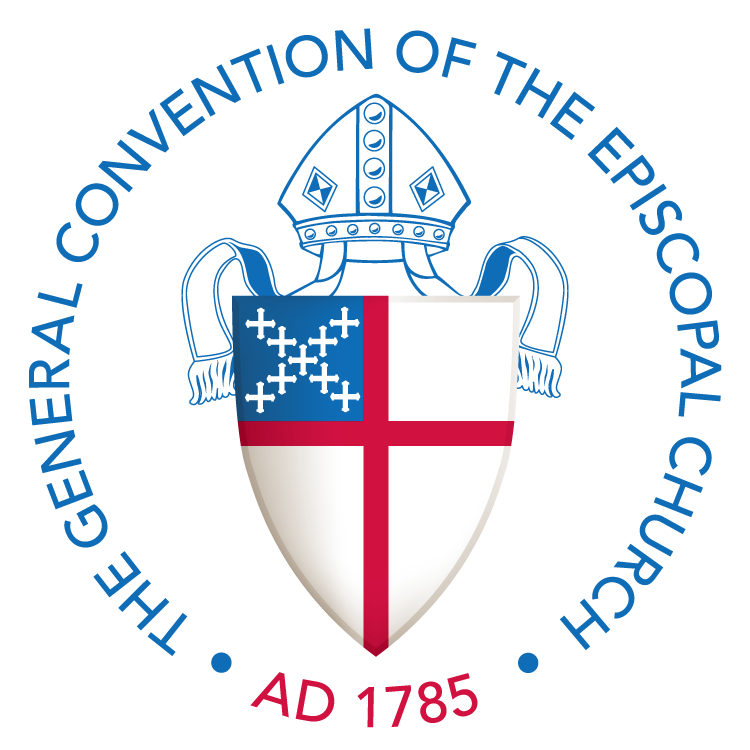 I am happy to report that we are up and running as your eyes, hands, feet, heart and mind in Austin, Texas, proud to represent you as Deputies and Bishop of the Episcopal Diocese of Rochester.
Our deputation is doing well and doing its best. Thanks to Father Billy Daniel, we have met several times for meals and interaction amid the frenzy of responsibilities. Worship has been spectacular! Yesterday's revival was superb! Of course, the preaching was out of the world about life as love and not selfishness. We are so blessed to have a Presiding Bishop who speaks so clearly to the essence of the gospel of Jesus Christ for such a time as this.
I was thinking of Antwon Rose, who was exactly as old as our son, Eklan. He was 17 when he was shot and killed by law enforcement last month in Pittsburgh, Pennsylvania. Antwon was black.
Carmen Schentrup was shot along with sixteen others after being shot four times at Parkland High School in Parkland, Florida.  She too was 17 years old. She was white. She was a straight-A student, a leader in her youth group, and she sang in her church choir. She was Episcopalian.
Both of these were young people whose lives were snuffed out due to gun violence.  Every one—black, white, and every other color—is affected by the scourge of gun violence in our country. We cannot become anesthetized to it because it has become so normal. Given all the shootings that involve our children I wonder at times if this is our modern day acquiescence to child sacrifice.
Carmen's family came all the way to Austin to share a testimony of grief and hope. Yesterday, they visited the House of Bishops to thank us for our solidarity with them and other victims of gun violence in the US. They shared these prayer cards. Her father also named other kinds of violations that dehumanize human beings in his remarks.
I wept. We wept.
We also had several young people come to the House of Bishops (HOB) to witness through their presence and words. Two of the young women spoke passionately and eloquently, calling us to pay attention, especially to Young leaders in our respective dioceses.
At the HOB, we passed a few resolutions, including one to support the care for our environment. At my Committee (Racial Justice and Reconciliation) we are moving several resolutions including one to ask for a church-wide effort to build leadership capacity in racial healing, justice and reconciliation. We have asked for a 5 million dollar investment. The House of Bishops has passed it and now the budget committee (Program, Budget and Finance) has the figure out where it is going to come from and how much is possible. We have a few other resolutions coming.
We are also dealing with some major breakdown where Spanish-speaking Episcopalians do not have interpreters at a hearing. This is very unfortunate and every effort is being made to correct this. In a gathering that brings together many who speak different languages communication is often complicated. Episcopalians are from all over the world! That's good news; it's also our challenge. We are experiencing Pentecost and are still figuring out our real practice of hospitality.
Today, the Bishops United Against Gun Violence led a brief prayer service in a neighborhood Park in Austin, Texas. It was moving and encouraging. Afterwards we made a visit to the Detention Center. I heard two young people speak with courage. Abigail spoke at the gun violence prayer and Andrés Gonzélez-Bonillas preached at the Eucharist. Both were inspiring and prophetic in their call to action. It is always good to hear this from practitioners.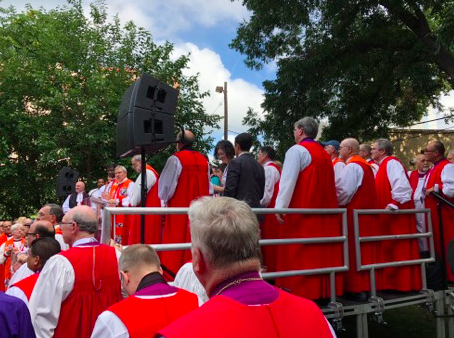 Legislative sessions fill our afternoon, even though it is Sunday. We are being good stewards of our time, and though it is busy here, our stay is comfortable and we feel your prayers. I ask your prayers for me as I prepare to preach at tomorrow's Eucharist.