The Apostle John in his gospel has Jesus reminding us of how incredibly gifted we are when God, the eternal Word, becomes flesh in Jesus. And the Apostle John goes on to say to all who received him, he gave power to become children of God.
Christmas really, at its essence, is about God reaching out to us, becoming like one of us, and in that wonderful name given to Jesus, Emmanuel, reminding us that God is with us. So the gift of Christmas is the gift of Jesus. And appropriating this gift of Jesus and making him a part of our identity, an essential part of our identity, is the greatest gift that God has given to us in Jesus.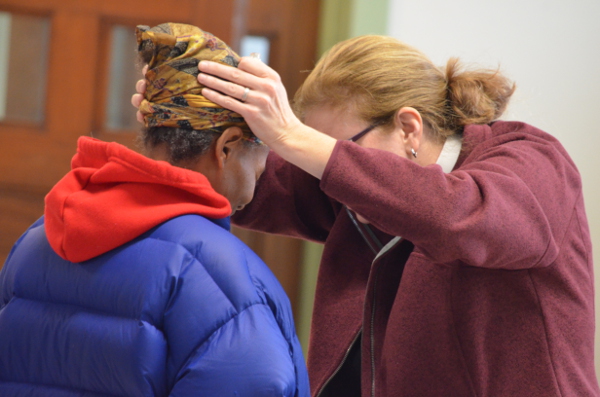 Christmas, as you also have heard repeatedly in many places, is a season. We hear phrases like, "Christ is the reason for the season." And I want to dwell on the seasonal aspect of Christmas, not just chronologically but spiritually because essentially, Christmas, as a gift to us, is about Jesus becoming a central part of our identity. God's greatest gift to us - the one who was at once God and man, bringing heaven and earth together, uniting as one things that are otherwise separated - that Jesus is the gift that you and I have received. And scripture continues to remind us that a gift can be given, but unless it is received it doesn't really complete the giving of the gift. You and I are invited into this incredibly generous gifting of God in receiving Jesus.
I hope we can receive this Christ in some intentional ways this season. This Christmas is different for different people. I know in my hometown in India, it is very different because of the flooding that has resulted in huge losses of lives, of property, of normalcy, if you will. This season is different, and in fact in the Church of South India in the Diocese of Chennai/Madras, they've canceled all Christmas celebrations in order to be able to focus on the relief and development of people, property and business in that part of the world.
Christmas is different for us. There is a lot of fear and anxiety in our midst. There is the stranger, the refugee, who is in our consciousness and as we hear the narratives of Christmas, we cannot but hear that narrative of a refugee in Jesus. The family, the holy family as we call them fondly, is on the move to Egypt as immigrants, as refugees, depending on the goodness of others and the protection of those in power. This is very real for us today: the refugee who is Syrian, the refugee who is already in our midst as a New American, those who are otherwise invisible, those who are demonized because they are Muslim. This Christmas is an invitation again to do some climate control in our souls. What is the climate in our hearts? And Jesus comes to us encouraging a climate of inclusiveness, of great compassion, of unconditional love - that is the gift of Jesus.
Jesus also reminds us of that incredible trust that God has in us in that he is delivered as a baby in a simple home, born in the midst of poverty, and the incredible trust that God seems to have in every birth, because of this holy birth, where a child is given into our hands and we are expected to protect, nurture and raise up this child. Even as Mary and Joseph under various struggles strived to do that, and did. So Christmas to me is also the gift of God trusting us, entrusting us with each other to protect the dignity of each other, to protect this earth and give her the kind of care and attention needed, to live into the goals that we have set for ourselves as the Sustainable Development Goals. That is all trust, and trust that is holy, that is different in that it is a trust that God has in us.
And finally, Christmas to me is also the gift of peace. Peace that passes understanding, peace that is about uniting heaven and earth, of bringing that which is estranged together in more than just a simple understanding of wellness, but a deep shalom. The kind of shalom that is only possible when we are able to recognize the other and see the face of God in the other, to make peace with the other, whoever that other is.
Receiving this peace, receiving this trust, and receiving this Jesus is also about giving and sharing the incredible gift that we have been given. And so I want to leave you with this last word, which is prevalent in all the stories that we will hear: do not be afraid. Whoever you are, whatever state your life is in - if you are feeling confused and alone, if you are feeling elated and yet alone, if you are contemplating things that are not life-giving, if you are suicidal, if you are bereft of hope - I want to remind you that God loves you, loves you deeply. More profoundly than you will ever have love. Receive that gift. Trust that God is with you, and that with the presence of Christ in your life, you can overcome any fear, any anxiety, anything that stands between you and that incredibly generous love that you and I have received in Christ Jesus.
So, Merry Christmas to you, to your loved ones, to your family, to this community. And may the joy of Christmas overflow in and through you, recognizing that God is with you.

+Prince