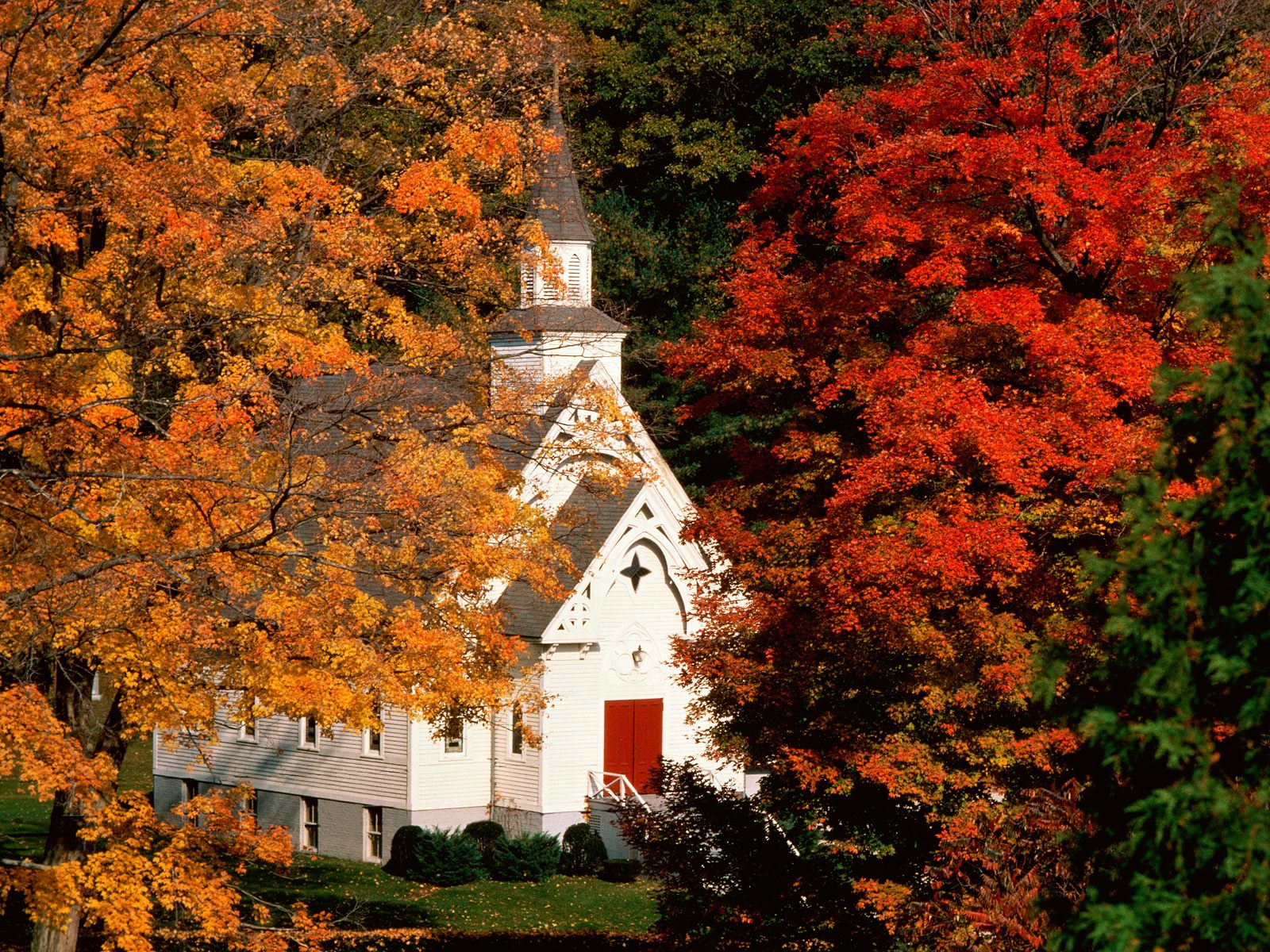 Dear saints,
I give thanks for your generous offerings of prayer, and other support given toward the relief and recovery efforts after a devastating season of storms in the US and other parts of the world. I urge you to continue your support through Episcopal Relief and Development  as these are long term recoveries that could take a while to get back to a sense of normalcy. Please pray for Rev. Jay Burkardt as he travels to Corpus Christi, where he served before coming to us, to offer his help in their recovery efforts through solidarity and more. Do let us know of other such actions.
Two of our beloved priests, Rev. Doug Carroll and Rev. Peter Harter, transitioned to God's nearer presence. I continue to commend their surviving spouses and families to your prayers. As a reminder to all of us of the mystery that death and new life do comingle, we celebrated the gift of new ministry at the superbly joyous installation of Rev. Leslie Burkardt, as Rector of St. Thomas' in Rochester.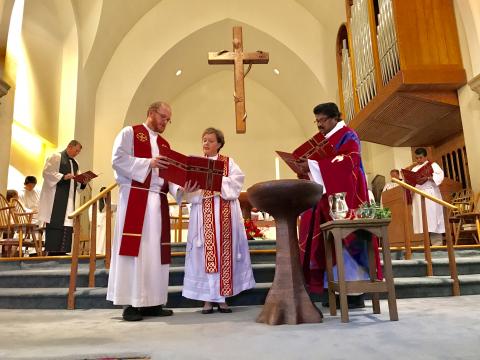 This August was the busiest yet in my time with you. We welcomed the President of St. Augustine's University, Dr. Everett B Ward and the Chaplain Rev. Nita C Johnson Byrd with the primary intention of renewing some connections that have remained dormant for several years between the two organizations. Among other things, I had the privilege of convening a few meetings:
with the new President of Hobart William Smith Colleges, Dr. Gregory J Vincent and his Cabinet
with the Superintendent of Rochester City School District, Ms. Barbara Deane-Williams, and her Cabinet (center)
with a few clergy and staff in the city, and Bertha Simpkins, the daughter of one of St. Augustine's famous alums, Rev. Canon Saint Julian Simpkins
with Dr. Marvin McMickle, President of Colgate Rochester Crozer Divinity School
with one of Mayor Lovely Warren's senior staff
It was a very busy visit, and it helped us to follow through on one of the priorities of our Presiding Bishop and Officers of the Episcopal Church stated as "repairing the breach" in the Becoming Beloved Community document, which is to strengthen the bonds we have as a Church with the Historically Black Episcopal Colleges and Universities. I look forward to following up on some of the take away items from this exciting renewal of connection between our Diocese and St. Augustine's University.
We will have the privilege of welcoming President Gregory J Vincent, the new President of HWS at our Convention Eucharist. As a Communicant and an enthusiastic Episcopalian, he has become the Warden of St. John's Chapel, which is recognized as an Organized Mission of the Diocese according to our Diocesan Canons. Please join me in welcoming this new and dynamic leader and his family to our Diocese and region.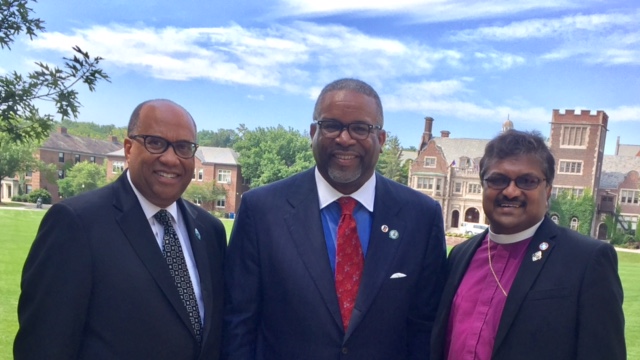 (Left to right - Pres. Dr. Ward, Pres. Dr. Vincent, Bishop Dr. Singh)
As you realize, we now have launched the first College for Congregational Development! It was a huge success in that it had 63 students representing eighteen parishes from our Diocese and four other Dioceses (Central Pennsylvania, New Jersey, Western and Central New York!). We are grateful for the leadership of Rev. Paul Frolick and Canon Alissa Newton (Diocese of Olympia) and the team of Facilitators and Facilitators-in-Training for getting us off to a successful launch of what we believe is one of our finest opportunities for the Christian formation of servant-leaders among us. We are equally grateful for the foresight demonstrated by Diocesan Council in making this significant investment.
We were fortunate to welcome our two neighboring Diocesans and their staff to a discernment conversation on ways to collaborate in the mission and ministry entrusted to our care in this region. We welcomed and honored Rt. Rev. De De Duncan-Probe, the new Bishop of the Diocese of Central New York. She preached a thoughtful homily at the Evensong, which was tastefully enhanced by the choir of Christ Church, Pittsford. We also honored Rt. Rev. William Franklin, Bishop of the Diocese of Western New York. It was a good day of gentle hospitality for the Church and we were honored to host the first of hopefully many such gatherings!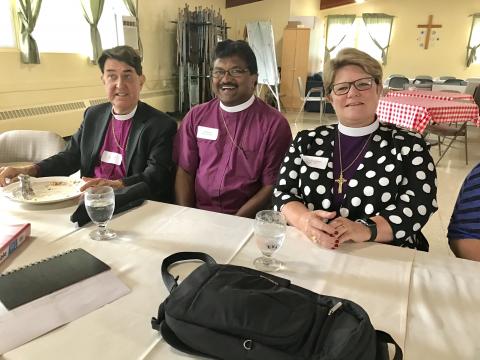 (Left to right - Bishops Franklin, Singh and Duncan-Probe)
We have welcomed our newest staff member, Mr. Steve Richards, our Communications Specialist! Please send him an email or note welcoming him to the Diocese and work to get him on your church calendar to visit you after the busy weeks ahead leading to our 86th Diocesan Convention.
Missionpalooza was awesome with young people from at least seven participating churches! Thank you for all the investment of leadership, time and energy that went into making this terrific formation experience for young saints possible!
I had the privilege of bearing public witness alongside several other-faith and Episcopal clergy, and lay leaders outside the Federal Building in Rochester to make the Deferred Action for Childhood Arrivals (DACA) the law of the land. Notable among the participants were Dreamers, Gabriela Quintanilla, Kemberly Gil, and young Hannah Ferguson, daughter of Rev. Ruth Ferguson. Here's my statement to the church. I am reaching out to our elected representatives urging them to do the right thing for our children and youth.
We are blessed to have the community of clergy we have among us, please remember to pray for them and renew your support for them in their ministry as we strive to be beloved community pursuing Joy in Christ, a way of life! Being clergy can often be a lonely path. I urge all clergy to avail of two opportunities for reflection and study, one on October 1 and 2 at St. Paul's and the other starting at 4 PM on Monday Feb 5 through noon Feb 7. I am grateful for every one of the committed full and part-time staff, and all the faithful who have offered leadership in various aspects of our governance for empowering and enabling us to strive to be the Episcopal branch of the Jesus Movement!
I ask for your prayers as we prepare for our day-long 86th Diocesan Convention on October 28 at the Rochester Institute of Technology. Please uphold in your thoughtful prayers those who are offering themselves for Diocesan leadership. I am encouraged that many of these friends have not run for positions on elected bodies before. It is good to have a healthy mix of fresh ideas and wisdom from the past. I also commend to your prayers the House of Bishops meeting this fall in Alaska, and the host Bishop our own Rt. Rev. Mark Lattime, Bishop of Alaska. 
Prayer for Convention:
Almighty and everliving God, source of all wisdom and
understanding, be present with those who take counsel
at the 86th Diocesan Convention for the renewal and mission of your Church.
Teach us in all things to seek first your honor and glory. Guide
us to perceive what is right, and grant us both the courage to
pursue it and the grace to accomplish it; through Jesus Christ
our Lord. Amen.
By the way, some of you have noticed my ponytail. It is my humble preparation to support children who deal with hair loss through locksoflove.org
Blessings and peace!
Your fellow servant in Christ,
Prince