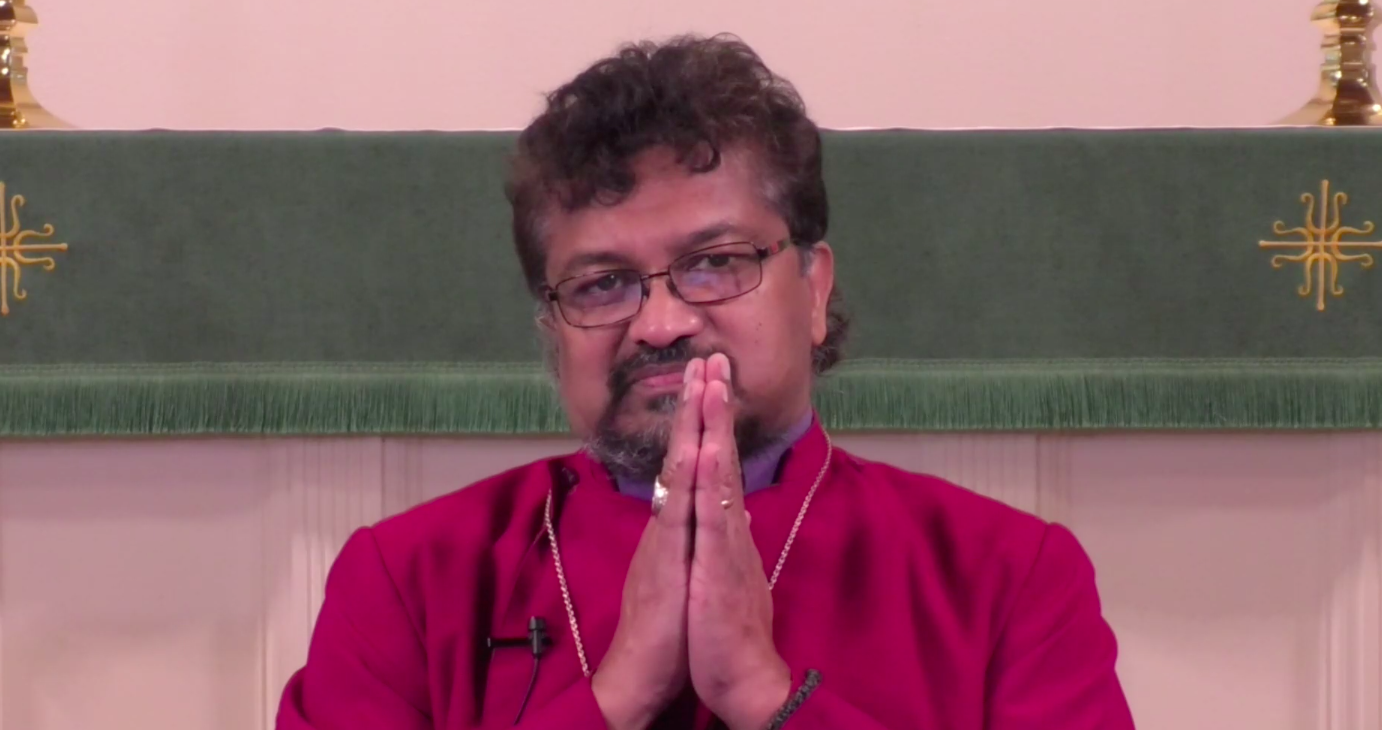 Welcome to this historic online Convention. The 89th, of the Episcopal Diocese of Rochester! Grateful that we can meet this way and do our ministry together safely and thoughtfully. I appreciate all the technological blessings and the spiritual graces that make such a gathering possible. This is real, as in, this is not virtual. It is online. Our worship is real, deliberations are authentic, and our decisions are official!
We've come this far by faith, leaning on the Lord, especially these past eight months since we entered this new COVID universe! I want to personally thank you for your faithfulness in navigating this season of COVID-19 to the best of your abilities. You have shown courage, creativity, and flexibility. You stepped into uncharted territory with trepidation, but also with curiosity. Together, you helped navigate challenges and found wondrous new ways to keep your faith, and the most significant aspects of ministry alive. 
Many laypeople have started living even more fully into their baptismal identity. I am proud to serve with you in this hybrid church that is emerging, and I thank you for your faithfulness. Together, we share the sense of loss for the lack of human contact. I rejoice with you for the many new discoveries you have made about connecting and reconnecting. Thank you! Thank you! Thank you!
Our stories, since the last convention, are related to the variety of gifts among us in response to a variety of challenges that came our way. Diocesan Council's rapid response to Covid-19 included: a $300 technology grant per congregation in March, a 35% one-time annual apportionment credit up to $1,200, and accelerated distribution of Congregational Development grants - all of which were funded by reducing other expenditures. 
Trustees provided assistance with church loans to help with cash flow, while the Standing Committee acted quickly to facilitate parishes applying for PPP loans. Through our CFO's initiative, we were able to coach many of our congregations with the PPP loan processes, resulting in over $800,000 of approved parish loans to tide through this historic crisis. Trustee and Council leaders are on the alert as we navigate these uncharted waters.
Diocesan Council worked closely with the Racial (Re)Conciliation, Healing and Justice Committee to draft and send a letter from our Diocese to Gov. Cuomo to address racial disparities in response to the pandemic. We are grateful to Diocesan Council's Vice-Chair, Julie Syracuse, and the subcommittee members who focused on Congregational Development Partnership Grants co-chaired by Floyd Bailey and Gretchen Ratterree+, Mission Partnership Grants co-chaired by Marion Ivy and Lynne Sharp+, and Budget chaired by Troy Preston+. They did substantial work!
I wish to thank our Diocesan Trustees' Vice-Chair Les Kernan, and the subcommittee members who focused on Building and Property led by Ron Young+, Audit led by Charlie Zettek, and Investment Review led by Sue Scanlon. Additionally, we are grateful to the service of the Human Resources Committee led by Libby Bakken, and the Prichard Scholarship committee led by Diane and Ian Prichard. 
I also express my sincere thanks to the Standing Committee led by President Rob Picken+, for their care of me, and their wise counsel on many decisions we have made, both as required by the canons and those that concern strengthening ministry in the Diocese. I am grateful to Commission on Ministry co-led by Jimmie Sue Deppe+ and Ellen Ralston who did a phenomenal job of engaging their work. They were instrumental in revising the Vocational Handbook to reflect that discernment needs to be individualized. They worked through the pandemic, with Standing Committee, to recommend three people for Ordination to the Transitional Diaconate, three for Ordination to the Priesthood, and three for Postulancy. 
These standing committees of our Diocese ensure that we have the governing foundations working to keep our diocese alive and well. I am deeply grateful for all these leaders and members who have dedicated their efforts sincerely, often sacrificially, to preserve the trust we share as stewards of Christ Jesus.
Our mission is to grow and develop congregations spiritually, numerically, and in missional leadership. One way we enhance this is through the Racial (Re)Conciliation, Healing, and Justice circle led by Nicole Hercules and Melanie Duguid-May+. A Diocesan-wide reading of Unsettling Truths punctuated by a learning circle with the authors Mark Charles+ and Soong-Chan Rah+ last Saturday was a holy testimony. They have led us well and we are grateful. 
We can repent, lament, and ask God to create a new heart in each of us. We look for continued leadership from them to lamentation, which is necessary before any positive movement forward. We need to lament for as long as it is necessary to create counter-narratives and structures that help us become Beloved Community as church and society. We should then consider an annual covenant to examine and take stock of how we are doing.
At the beginning of this journey, I asked us to Watch and Pray! We face the fact that Black, Native and Hispanic communities have often been treated as inferior, and therefore infantilized or terrorized. They are not inferior! They are made in the same image of God! We can turn from the sin of racism to our true humanity in Christ by rebalancing and correcting our ways. We have to learn to treat all people as fully human in our mind. That is what our Baptismal Covenant calls us to do. Imagine the church transformed into a sustainable balm-like an antibiotic or vaccine to our nation's sick body and soul. A change of heart is foundational to any legislative, judicial, economic, or cultural change.
My beloved siblings and saints let us continue to watch and pray because when we pray, we change for good. When we are good, we learn to love. When we love, our hearts are transformed. When our hearts are transformed, we transform unjust systems. That's when God smiles! Every once in a while, we get a window of Kairos—an opening into God's timing and purpose, when we can do the work necessary to set things right with God. This is such a moment for us as church. Let justice roll down like waters and righteousness like an ever-flowing stream. (Amos 5:24). Let us do justice, love kindness, and walk humbly with our God (Micah 6:8). Beloved, let us not miss this opportunity to change deeply.
For helping us deal with the literal virus among us, I am so grateful for the 20-member Thriving in a COVID world Task Force under the leadership of Nita Byrd+ for the Liturgy and Sacrament, Dan Burner+ for Regathering, and Julie Syracuse and Keisha Stokes+ for Reimagining our church. 
I wish to thank all the District Deans for your leadership. We thank the Very David+, as he is affectionately known, for serving as an interim Dean of NE District. Gretchen Ratterree+ has taken over from him for a two-year period. The rest of the District Deans—Dan Burner+, Leslie Burkardt+, Ruth Ferguson+, Ginny Mazzarella+, Ken Pepin+— have agreed to continue for one or two more years. Your pastoral leadership and wisdom in giving and receiving feedback have been invaluable to us in making sound decisions. I still remember your feedback before the decision we made to suspend in-person gatherings that Sunday in March. 
I also wish to thank the Diocesan Deans—Johnnie Ross+, Debs Duguid-May+, Virginia Tyler Smith+, and Billy Daniel+--for their collaborative leadership with their parishes. After one year, we had a design analysis of this model of distributive leadership with a facilitator and will make changes and tweaks to this iteration of the Diocesan Dean model. In the meantime, we are making progress in several ways due to this organizational change. 
We have helped nurture and move several people in the discernment process, completed two of four training sessions with about fifty leaders, clergy and lay, to equip the circles of support, created portals to attend to needs of churches in rural and small towns, and have been there for retired clergy. We called four new clergy—please welcome Don Schranz+, Josh Barrett+, Mitch Bojarski+, and Keisha Stokes+! During this time when the veil on systemic racism was lifted with the death of George Floyd and Daniel Prude, we took deep dives in formation. This model helps us foster a culture where many leaders exercise their leadership gifts. Look at the remarkable gifts we have enjoyed because District Deans have passed the baton on to new leaders. 
Our plan is for Diocesan Deans, like the District Deans, to pass the baton at the end of their terms to new leaders. I hope they will help me identify, raise, and train these new leaders. A culture of empowerment is at the heart of stewarding leadership development. We take our cue for such a model of leadership from Jesus, "…who, though he knew he was in the form of God, did not regard equality with God as something to be exploited, but emptied himself taking the form of a servant…." Philippians 2:6-7. 
This to me means we lead with the heart of Jesus; with a willingness to empower others, and not to seek our own greatness or visibility. With this in my heart and mind, I will intentionally and prayerfully continue to examine all leadership, including mine in my office, over the next year. I engage my thirteenth year of service as your Bishop[1] to serve our diocese and the world. I thank my family for helping me, as always. For now, we have work to do getting through this pandemic and moving intentionally toward racial conciliation, healing, and justice. 
Last but not least, I wish to thank our amazingly nimble staff who tirelessly serve you with grace and diligence. We have been functioning remotely with occasional visits to our offices, for which we continue to be grateful to St. Peter's, Henrietta. We will continue to serve you remotely until it is safe to be in enclosed spaces for prolonged periods. Do let us know if we need to tweak any glitches going forward. Kristy, as Operations and Benefits Manager, Catherine, as Missioner for Parish Audits and Finance Support, Canon Todd, as Chief Financial Officer, Steve, as Communications Director, Carolyn, as my Assistant, and most recently Donna, as Accountant have been a small but diligent and competent team of trusted friends, especially through this pandemic. We have got to know each other better and leaned on each other for support by checking in almost every Friday through COVIDtide. 
We congratulate Carolyn McConnell, as she prepares to retire at the end of this year for her much deserved time with her family and grandchildren. She has served the Diocese of Rochester well for 21 years and we wish her well! Carolyn, as you know, is a woman of deep faith and great integrity. She has consistently had the knack to incorporate corporate memory with wisdom and tact in her significant position as Executive Assistant to three Bishops. She certainly trained me! It has truly been an honor to serve you alongside this saintly and wise woman leader for more than half of her tenure in our good diocese. We will miss Carolyn and we know she leaves an indelible mark on this diocese and all those she has blessed, both saints above and saints below. We will raise a cheer and celebrate Carolyn's time among us in a safe and appropriate manner later this year. I have appointed a search committee to help me discern and call a successor to continue the good work of ministry she has done among us. Let us show Carolyn some love!
When we realized that COVID was a reality, we moved with caution as early as February 29th and advised stopping physical contact, including during the peace. On Sunday, March 15, we suspended the common cup and suspended all in-person worship on March 22. O how giddy I get, just thinking of those days when we made big decisions not fully appreciating how much of an impact, they would have on the welfare of the saints entrusted to our care. Looking back, thanks for heeding to the science while trusting our judgment as your leaders. It helped to have clear-headed thinking and action from our Governor!
We did not cancel worship but transitioned to online and other forms of house church models with grace and trust. We moved all local and diocesan meetings to the phone or online. We did not know how long this global pandemic was going to rule us. The tragedy is that since then, over 230,000 people have died in the US, and over 1,150,000 have died globally. We remember them, their loved ones, and those who lost their livelihoods during this season.
We moved mostly to online worship, found zoom coffee hour—which has become quite the thing—and even radio and parking lot liturgies. We innovated while erring on the side of caution. I could not be prouder of the innovation and the willingness to share resources with one another. Though we were physically distanced, we have had more touchpoints as a diocese through this pandemic than ever before. Starting in April, we met as Diocesan leaders, on a weekly zoom to check in and see how we were doing, sharing resources, processing Daniel Prude, and learning from young graduates. We shared mental health resources, innovative ideas, regathering practices, missional practices, liturgical practices, techie practices, etc. We transitioned to meet once in two weeks toward the end of July and continue this practice to date. We even inaugurated the Presidency at Colgate Rochester Crozer Divinity School and graduated students all online.
We have adapted in many ways in our church. College for Congregational Development has morphed into a more accessible resource. The House of Bishops is completely online, and Todd and I attend coordination calls with the PB's office regularly. We repurposed the Bishop's Appeal completely to attend to COVID related emergencies and responses. We celebrated the 210th anniversary of St. John's in the village of Catharine, NY, named after Catharine Montour, a Haudenosaunee or Iroquois leader. 
From the literal food cupboard there for the community to the many food pantries around the Diocese, we continued to feed those in need. We repurposed Diocesan night at Frontier Field and you responded by contributing to the missions of Tiny Houses in the city and Trinity Place in Geneva. 
We continued to see more signs of hope during this COVIDtide:
When Newsweek noticed our COVID response and rated Episcopal Church Home as one of the top 400 nursing homes.
When our vestries joined their clergy in pastoral response and called to check on parishioners when the bottom dropped in March.
When our congregations with table fellowships and food pantries pivoted to takeout or delivery, and kept feeding the faithful safely.
When young people of all backgrounds took to the streets in nonviolent protest against racial injustice in our land.
When lay and clergy leaders stepped up and served. A leadership shoutout to our Chancellor, Phil Fileri, and Assistant Chancellor, Paul Greene.
When Grace! mission helped migrant workers stay connected amidst fear of deportation before COVID and stay masked through COVID.
When South Wedge Mission and several other congregations took a frontline nonviolent response in the wake of the Daniel Prude killing.
When most congregations figured out safe and innovative ways to stay connected online and otherwise through this time of separation.
When through the Bishop's Appeal, you helped neighbors, who were: hungry, sick, homeless, needed masks, or were mentally ill, here and abroad. Shout out to CNB and several generous donations!
When white leaders, young and old, stood up to lead a lament on racism.
When we safely ordained three, baptized a few, married, confirmed, received, reaffirmed some, and did gravesides celebrating the dearly departed!
When we checked in to stay connected—we have met seventeen times online to pray, learn, and encourage one another as leaders in the Diocese. Hope and togetherness have been alive!
Let me express my heartfelt thanks for all the loving-kindness shown to me and my family around the sickness and eventual death of my dear mother, Ida. Thanks to the cooperation of our amazing staff and mindful leaders, I was able to make multiple trips to India. From the bottom of my heart, "Thank you!" 
Amma died peacefully on January 22. Over a thousand people showed up at her funeral. She was a woman of faith, a devoted mother, an innovative social worker, and an embodiment of goodness to me and many. Last week we lost Rev. Richard Henshaw, the senior-most priest in the diocese, and Ms. Penny Schumacher, Warden of Trinity Greece. May all these radiant souls, and the souls of all the dearly departed, Rest in Peace and be Raised in Glory!
We've come this far by faith leaning on the Lord since we entered this new COVID universe! Where do we go from here? As I conclude my address at this 89th Diocesan Convention, here are some questions, in no particular order, for us to consider. 
What kind of church will we be as we emerge from this pandemic? 
How will we know if we will continue to be a nimble church?
Will we be a church that is more trusting of, more empowering of, and more dependent on lay leadership? 
How will we embrace those who have found us online?
What is our long view on racial injustice, climate change, and evangelism?
Could we envision Pastoral Evangelists to help revive the church?
Will we be a church without walls, focused on building disciples of Jesus?
Will we be a church that believes in the dignity of every human being without ignoring the individual Daniel Prudes of our world?
How will we pay attention to the mental and moral health of our people?
Will we be a church that values in-person worship and online worship with the same integrity since both are real?
Will we be a church that is mature and ready to welcome young people who marched the streets with the dream of a kingdom that is non-violent and just?
What are we willing to give up, to help birth a church for such a time as this? 
We know how to survive this COVID pandemic using nonpharmacologic practices like washing, masking, and distancing! We may not be tricking and treating or gathering at tables this Thanksgiving like we used to. But we have seen leadership, relationship, and stewardship dance with one another. We have indeed, come this far by faith. Let us walk together in faith, hope and love!