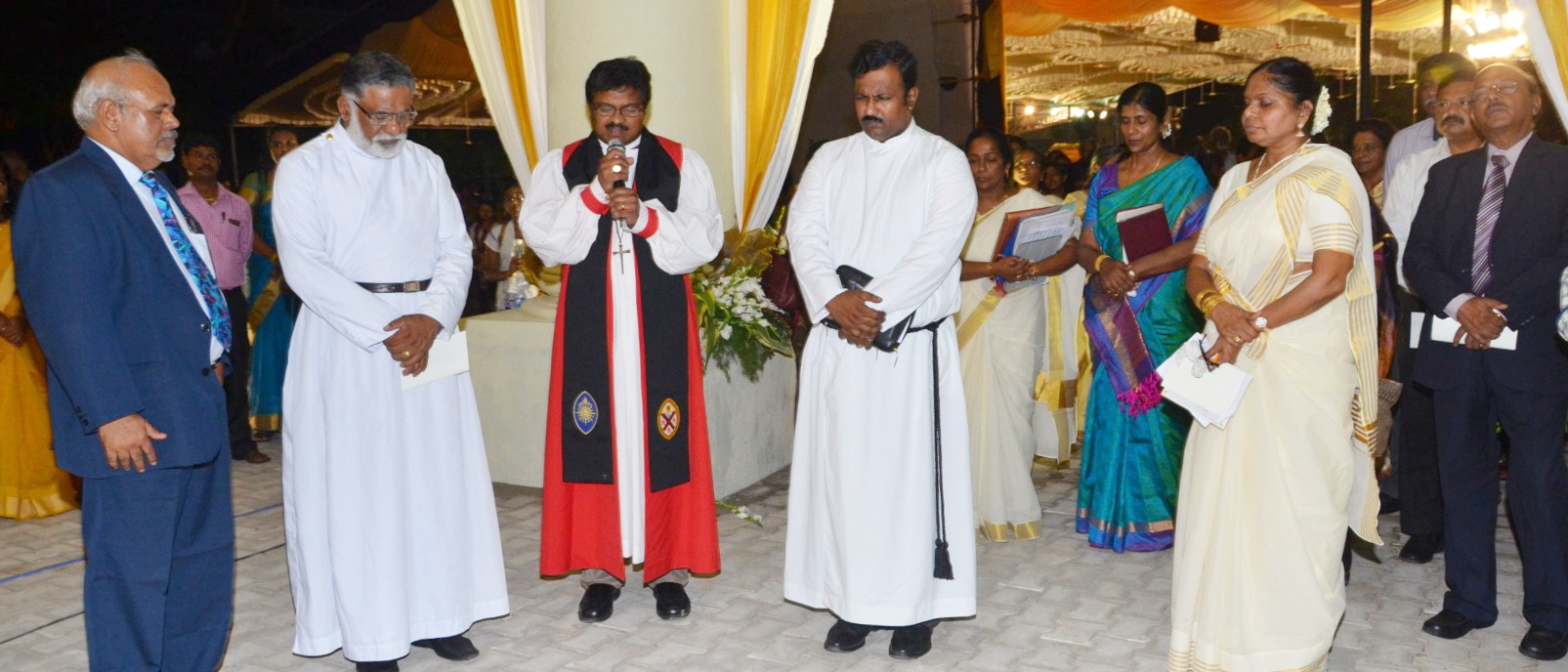 Bishop Prince Singh preached the following sermon July 7 during the centenary celebrations of the Women's Christian College's Centenary service in Chennai, India. The college is the alma mater of Prince's wife Roja. During the visit, Prince joined in dedicating the Centenary Block, which houses an auditorium, conference halls and classrooms for the college.
May the words of my mouth and the meditation of our hearts be acceptable in your sight oh Lord, our strength and our Redeemer. Amen.
Many thanks for such exquisite offerings of music and song to the glory of God; especially appreciated the blend of Tamil and English in the same piece.
I am grateful to Principal Dr. Ridling Margaret Waller, Chaplain Dr. Vanitha Williams, the Board of Trustees, clergy, parents, friends, students, alumnae, faculty, and staff of Women's Christian College (WCC) for giving me the honor of preaching at the closing liturgy of your centenary celebrations. It is an extraordinary honor to participate in this historic moment of a premier institution of learning in India, among other things, to dedicate the Centenary Block that marks a remarkable journey. That fact is only compounded by the fact that WCC is my best friend's alma mater. I am blessed to have married Roja, who did her Bachelor's in English literature here from 1982 to '85. Since then she got a Ph.D. in Comparative Literature and currently teaches out of the Department of Sociology at St. John Fischer College in Rochester, NY, where we live. If she is evidence of the caliber of leaders you help produce, you truly are a great "college with potential for excellence." I have heard many a story of adventure, intrigue, joy and friendship from her, some involving a clock tower that makes memories beyond the classroom sweet. I am honored that my mother and members of my family are here, too. We also have our niece, Sarah, who is studying here!
I bring you greetings from the Episcopal Diocese of Rochester (in the US near Niagara Falls) where I serve as Bishop and have done so for over eight years. I come to WCC as a Trustee of the Colleges and Universities of the Anglican Communion affectionately referred to as a sound effect: CUAC! Congratulations on hundred years of your diligent vocation as the "lighted to lighten," against all odds! Indeed, the founding of this college is in itself a story of great visionary faith with a long view. The writer to the Hebrews in scripture says: "Faith is confidence in what we hope for and assurance about what we do not see."
Founded this very day, a hundred and one years ago:
WCC was the first Christian institution of higher learning for women in Madras
WCC was recognized in 1916 as a first class educational institution
WCC was founded when women did not have the right to vote
The energies of fecundity that spurred the founding of Women's Christian College were about the birthing of vision and resilience. Your mission statement aptly reads: "The College aims to provide a complete, meaningful and relevant education to women so that they are intellectually well-trained, morally upright, socially aware and spiritually inspired."
Buildings are containers of aspirational values. They help focus our otherwise distracted energies toward discernments that move us directionally and proactively to affirm frontiers already explored and discover new ones. The most significant aspect of a building, however, is who's in it, what's being pursued and how. It is the curious interaction with meaning that gives a building its real significance. This is why the recent attack on many Muslim civilians in one of the happiest possible buildings, the arrival lounge of an airport, was such a shock to all of us. A building is a repository of meaning and eventually of good memory. Every person, like a building, is also a repository of meaning and a curator of aspirational values. Every woman, man and transgender person is a dynamic expression of God's dream, a living stone.
The Samaritan woman meets Jesus at the well. She belongs to and represents a community that like the Hebrews received the revelation of God, but lived it differently than them. Samaritans pursued a way that was viewed with suspicion over a period of indifference that eventually led to separation wherein they were considered as inferior by the Hebrews. Their worship sites were different though they (Hebrews and Samaritans) all considered themselves children of Abraham. But this Gospel's engagement began because there was an embodied encounter. Jesus, a Hebrew male, initiated conversation with a Samaritan, and a woman. That was not considered kosher in those days. Furthermore, she was a woman who was not viewed within her own context as chaste. She was a rejected living stone. Jesus would eventually experience what it meant to be rejected, terrorized, humiliated and killed. It appears as though the Samaritan woman was giving him a foretaste of what was to come using the template of what she was going through in her repository of meaning, her building, her body and her soul. She was rejected by other women and men that she had to come to the well outside the city when no one else was around. Jesus similarly would be rejected by all his friends and would be taken against his will outside the city in shame. The lesson from living stones, even the rejected ones, however, is that rejection by humans is not rejection by God.
A related lesson is that learning from rejection and pain is one of the most fertile opportunities of life. There is hardly a lesson of consequence that I have learned from happy times when things were going "cool," as we used to say when we were in college. It is however the rough times that teach us lessons in patience, grace, wisdom, holding our tongue, and so much more. Robert Browning Hamilton's wisdom comes to mind: I walked a mile with pleasure she chatted all the way; but left me none the wiser for all she had to say. I walked a mile with sorrow and ne'er a thing said she, but, Oh! The things I learned from her, when sorrow walked with me.Adversity and rejection are only motivations to see how incredibly resilient you are. As another famous Eleanor (Roosevelt) compared a tea bag to a woman – you cannot tell how strong it is until you put it in hot water.
It is significant, even poignant that we understand that our empathy is only as deep as our ability to feel with another when they are hurting. In the words of the Scottish poet Charles MacKay, Oh ye tears, I am grateful that you run; though you trickle in the darkness you shall glisten in the sun. The rainbow could not shine if the rain refused to fall and the eyes that cannot week are the saddest eyes of all!
All through history or her-story, persons who have allowed a greater power to steer their pain into joy have lived lives of positive consequence. From your inspiring Principals who led against all kinds of odds in a culture that glorifies subservience mistakenly for humility, to every girl who walks into campus for the first time unsure if her accent would be understood, if her sentences would be grammatically correct, and if her sense of self would be adequate to survive in this expanded world. It comes down to resilience. Remember the words of Eleanor Roosevelt that no one can make you feel inferior without you consent. WCC, your spiritual DNA is about resilience. Your lamp is lit, so rise up as living stones and continue to light up the world!
As we prepare to dedicate this Centenary block, I hope you will remember your journey as a blend between independence and interdependence. Jesus is perhaps a recovering sexist—you have to hear the sexist remarks his disciples make when they come back and find him deep in conversation with the Samaritan woman. Here's how that exchange goes down. He asks her for water. She questions his propriety since he is crossing some boundaries by asking for anything, even water, from her. Jesus says that if only she knew who she was talking to she would in fact ask him for living water. And at this point she has a practical question: "where is your bucket, sir?"
Here is a beautiful dance between independence and interdependence. On the one hand, Jesus is content with the living water he has the ability to share without the obligation to do so. She is a Samaritan woman who is enjoying her few minutes of independence from her socio-cultural restrictions under the noonday sun. On the other hand, Jesus is dependent on her because he is really thirsty, literally. She is dependent on him because he just drew her in by revealing all her secrets. Both are vulnerably intertwined in this dance. Your founding Principal Dr. Eleanor McDougall's words ring out a curious vibration to this dance: We can do no better service to India, than to liberate the energies of wisdom and devotion which are latent in her women and to infuse into them the vital ideals of Christianity.
Christian identity has to do with a balance between these two incredibly powerful values: independence and interdependence. To think independently and yet not arrogantly is to follow the example of Jesus who being in very nature God, did not consider equality with God something to be used to his own advantage; rather, he made himself nothing by taking the very nature of a servant and humbled himself by becoming obedient to death—even death on a cross (Philippians 2). Most of our world's problems stem from this lack of balance. Oppressed individuals and groups who perpetuate the cycles of oppression on others when they feel a little secure is a life-draining gift that keeps on giving, so to speak. This destructive cycle begins when we forget where we came from.
Remember that your journey as an institution of learning is filled with cooperation and interdependent resourcing with others. The evidence is all over the place of individuals and systems saying YES to partnership and not settling for self-containment. Look at the three Eleanors who were Principals along with Elizabeth, Anna, Renuka, Indrani, Kanmani, Glory, Rita, or Ridling. Each one came to enrich and profoundly change the status quo.
In preparing for this visit I found out that between 1946 and 1964, over a span of nearly two decades, the United Thank Offering, a ministry run exclusively by women of the Episcopal Church reached out to connect and backed it up by funding several initiatives in WCC and your sister institution Christopher's Training College to the tune of $76,500 (approximately three fourth of a million dollars in buying power today). It warmed my heart to notice that women from the Church Roja and I now call home invested in these women's colleges in a country that was at its nascent stages of formation. I am thrilled that you have maintained connections with Mt. Holyoke College in Massachusetts. My presence itself, as a representative of CUAC, is evidence that we seek more and more dynamic connections across the divides and distances that separate us. We are interconnected in more ways than we think we are and we are better when we are together.
Enlightenment and empowerment are gifts that can become destructive when they are not stewarded with humility and grace. Our independence to think and act freely is intertwined with our interdependence on each other. This is soul-work, where we gauge our own internal climate and control it so that it is life-giving and spring-like. Perhaps this is what the sage Tagore's dream was after: Where the mind is without fear and the head is held high, where knowledge is free, where the world had not been broken into fragments by narrow domestic walls, where words come out from the depth of truth, where tireless striving stretches its arms toward perfection, where the clear stream of reason has not lost its way into the dreary desert sand of dead habit, where the mind is led forward by thee into ever widening thought and action, into that heaven of freedom, my father, let my country awake.
Finally, the Samaritan woman and Jesus get into a conversation on where they ought to worship. They are both concerned about the where and why, Jesus eventually moves it along to a cosmological reality that transcends space: worshipping in spirit and in truth. This is the invitation of God to go beyond the narrow domestic walls we have created for a season and perhaps for good reason. All the isms of the world have a shelf life if progress is inevitable and the arc of justice bends eventually to liberate us all. These walls have to become bridges at some point lest they stifle and increase destructive fear due to claustrophobia. Jesus calls us to understand family differently where everyone, regardless of their persuasion of faith, is welcome to live into their true sense of belonging because God is in all and above all. This college is a training ground to practice that eternal identity where in the wideness of God's mercy your faith journey matters and so does everyone else's.
So, here's to hundred more years or more of providing a complete, meaningful and relevant education to women who are well-trained intellectually, upright morally, aware socially and inspired spiritually! WCC, hundred and one not out in cricketing terms is an amazing feat! So raise you bat with joy and pride, take a bow of gratitude, the best will continue to come, the sky is the limit as long as each of you pursues your passion with diligence and balances it with humor, simplicity, companionship and most importantly, love! God Bless you abundantly as you rise up as living stones and continue to light up the world! Amen.