Episcopal Diocese of Rochester to hold 2013 Convention at Asbury First United Methodist
Large campus and see location key for Presiding Bishop's visit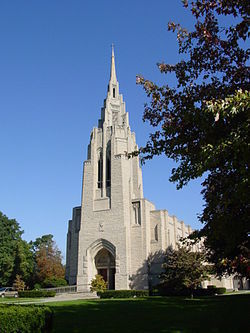 ROCHESTER - The Episcopal Diocese of Rochester will hold its 82nd Annual Convention at Asbury First United Methodist Church of Rochester on Saturday, November 9, 2013. Located near Diocesan House at 1050 East Avenue, Asbury was selected as convention site because of its 950-person sanctuary, overflow capacity, and see location - important factors in accommodating Presiding Bishop Katharine Jefferts Schori's visit to the convention.
Use of the United Methodist Church's facilities marks continued ecumenical partnership of our faiths.

"We are delighted to have this momentous expression of unity in Christ.  Our hearts are filled with gratitude for the warm and generous hospitality that Rev. Susan Shafer and the saints of Asbury have extended to us," said the Rt. Rev. Prince G. Singh, Eighth Episcopal Bishop of Rochester. "They have opened up their hearts and sacred facilities for the purpose of our engagement, especially at the Church's annual gathering in the Diocese of Rochester.  As we pray and prepare for our convention, let us give thanks for such significant expressions of friendship."

Bishop Singh added, "Let us also continue to make intentional efforts to be generous in our lives by extending our hand of friendship and affection to those we consider to be strangers."

The Rev. Susan Shafer, Senior Minister at Asbury, recently welcomed Bishop Singh and members of his staff to the church for a tour of the facilities and a discussion of convention logistics. During the tour, Shafer emphasized her view that Episcopalians and Methodists are sisters and brothers in Christ.


"Asbury First is honored to extend Christ\'s hospitality to the Episcopal Diocese for your convention," Shafer said. "As neighbors on the 'Avenue', we are excited about fostering closer relationships with one another as we all, the Body of Christ, strive to be faithful and expressive of what that phrase embodies. Your presence here, that weekend, will enrich our lives as well as we extend the hand of fellowship and recognize all of our hearts united in Christ."

The Diocese will also host a panel discussion at Asbury with the Presiding Bishop on the evening of Friday, November 8, 2013. Details about this discussion will be released in the coming weeks.

The Convention of the Episcopal Diocese of Rochester is the annual business and governance meeting of the organization, to which 47 regional churches belong.