St. John's in Sodus Welcomes a New Leader
Michael Laver has been called to serve as "deacon in charge" at Saint John's Episcopal Church in Sodus, and is preparing to be priest in charge when he is ordained a priest.  Michael began his official ministry on September 1st and started preaching on September 10th.  Michael says the welcome he has received from the Saint John's family has thus far been overwhelming, and that he and his family are extremely grateful for this wonderful opportunity.  Michael says,  "In some ways this new ministry is a great experiment in our diocese, as I am truly bi-vocational, serving full time at RIT and half time at Saint John's."
Michael Laver joined the Episcopal Church in 2005 when he moved to Rochester to be with his future wife, Annie, who was pursuing a doctorate in Organ Performance at the Eastman School of Music.  He started attending Two Saints downtown when Annie took a job as organist there and immediately fell in love with the church and its remarkable people and story.  Michael was confirmed an Episcopalian a year later in 2006 and started discerning a call to ministry a couple years later, in 2008.  After a lengthy process, Michael was ordained a deacon in the church on June 3, 2017. 
Michael received his doctorate from the University of Pennsylvania in 2006 and teaches Asian history at the Rochester Institute of Technology, where he has been a faculty member for ten years.  He currently serves as chair of the department. Michael graduated from Colgate Rochester Crozer Divinity School in 2017 with a Masters of Divinity Degree. 
Michael was drawn to the Episcopal church in the first place because, as a historian, he was drawn to the continuity with the ancient church, its preservation of the rites and rituals that have existed for thousands of years, the unique blend of Protestant theology with ancient rites, and the Christ-centered worship as manifested in the weekly Eucharist. In the end, he is excited and honored to share the love of God with the church and the wider community.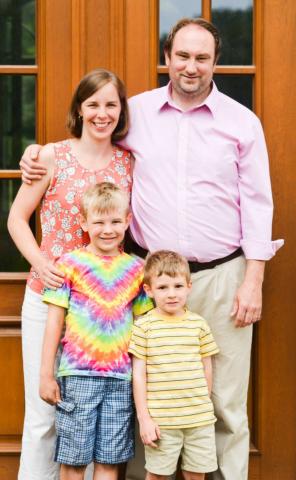 Michael lives in downtown Rochester with his wife Annie and his two kids Bennie and "Old Hambone" Laver.  Annie is professor of music at Syracuse University, Bennie is starting the fourth grade and Old Hambone is starting first grade at Genesee Community Charter School.