Walking St. George's Path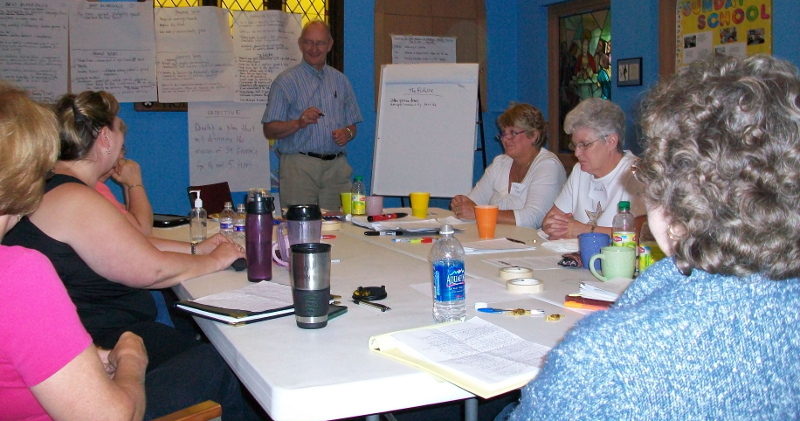 A little more than twenty years ago, St. George's Episcopal Church and the Diocese of Rochester jointly agreed to move the parish to an area of Monroe County with no existing Episcopal presence. Ten acres of land just east of the village of Hilton became St. George's new home after more than a century in the Charlotte Beach area.
At the time of the move, St. George's was a stable but static parish that had grown from a humble mission, but declining local population and a shared vision of ministry took us elsewhere.                                        
Since the move, our congregation has experienced both blessings and frustrations, and today it remains small. Needed growth has been elusive and temporary in spite of efforts to create a sustainable parish. We\'ve known a long succession of spiritual leaders, most of whom stayed no more than two or three years, illustrating the unsettled, unfulfilled potential that was seen when we decided to move to the Hilton area. Today, we are a small group of committed Episcopalians who continue to work diligently to show love and the true joy of Christ to our community, along with recognizing our own need for help.
In early 2011, Bishop Prince Singh assigned a congregational development consultant from New Jersey by the name of Brian Bussey to help St. George's plan for its future. Like many other parishes, we had done self-analysis many times in the past without measurable success. This time however, a very different technique was used which energized and engaged the parish as never before.
The imaginative concept that was applied is entitled "Appreciative Inquiry" (AI), and it has, as its core, a focus on positive history - without trying to correct what did not work or dwell on what is wrong within the parish. That is an oversimplification, of course, but you get the idea.
The AI process consists of four phases:
Discover (the passions, interests and desires of the congregation)
Dream (and define the parish that is desired in the future)
Design (what steps are needed that will lead to realizing that dream)
Deliver (a step-by-step plan to accomplish those activities)
To begin the discovery phase, five questions were distributed to everyone in the parish by way of focus groups and mailings:
1      Best Experience: What has been your best experience at or about St. George's Parish, and why?
2      Personal Values: In that experience, share the things you valued most and why.
3      Core Factors: What gives life to your parish, the really positive values it can build on?
4      Community Values: What is the single most important thing about St. George's that the community should know? Is the community aware of this? Why or why not?
5      Three Wishes: What would you like to have to heighten St. George's vitality and health?
The answers to these questions provided the raw data, which the Vestry then consolidated into meaningful groupings and then further developed the ideas and concepts through parish-wide information meetings. Every parish is different of course, but for us, four areas or goals were clearly apparent:
The Parish of St. George seeks to enrich: the life of our wider community; the lives of youth and young adults; the lives of seniors; and the life of our parish.
Once these goals were identified, the Vestry developed some suggested steps and timeframes for each, including those things we have been doing in the past that warranted continuation. Then, the Vestry took these back to the parish to find out how much energy and excitement was available for each of the various tasks by tying directly into our Stewardship Drive for Time, Talent and Treasure.
Everyone was asked to identify which area(s) of our plan they personally wanted to work in and support. Gratefully, 75% of parishioners committed to at least one specific part and many to more than one. Thus, emphasis and focus were applied and unsupported ideas were discarded.
The total effort took the parish about six months to complete. The resulting report addressed two very important factors. First, what were we asking of the Diocese and, equally important, what was being asked of the parish. This whole proposition was based on a partnership between the Diocese and the parish - and on keeping God at the center of our actions.
We must now track our activities, adjust our plan as we learn what is and is not possible, and provide the Diocese with a "report card" each year that defines our progress and milestones that we have committed to, including financial independence within the five-year timeframe of the plan. We are learning to live the joy of Christ, which after all, is why we are here … and, with heartfelt thanks to the Diocese, we are grateful for the opportunity.
Top Tips
Establish guidelines for everyone to follow, which is invaluable in the AI process. Transparency is especially important.
Expect this to be a full "Parish Project" rather than a Vestry effort.
Allow stakeholders to voice their views in several ways: verbal or written, open or private, whatever is most comfortable for the individual.
Keep the parish and the Diocese involved and aware of all that was going on from the beginning. Avoid surprises.
Consider the five questions distributed at St. George's. Can you answer them?