The McKelvey Millennium Ministry Development Fund
When Bishop McKelvey retired, the Diocese was good enough to raise a considerable amount of money to say thank you to Linda and Jack. The money is to fund a program entitled the McKelvey Millennium Ministry Development Fund . Since 2009, they have granted gifts of approximately 5,000 dollars each year for ministries around the world. A large part of the gifting has been for Water For South Sudan. Other gifts include a babies home in Ghana and Disaster Relief in Haiti a few years ago. They are also funding a brand new ministry in Haiti sponsored by Christian Veterinary Mission ,housed in Seattle, WA. Wayne and Lisa Hassinger have left and now are in Haiti. Wayne is a University of Pennsylvania trained Veterinarian. He and his family will be living in Haiti for at least three years. Wayne will do his veterinarian practice but his major job will be to develop and manage a program to train Veterinarian Agents. They are similar to physicians assistants and allow for the development of several people to help care for animals in their communities. This is terribly important as Haiti works to move beyond their most recent natural disasters.
Here is an update letter from Wayne to Bishop McKelvey from Haiti.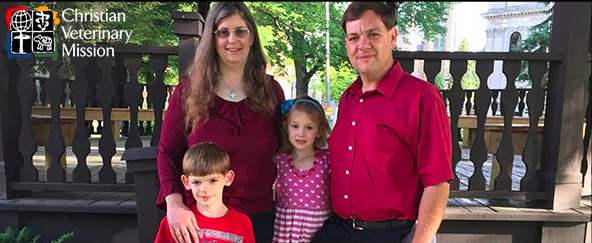 __________________________________________________________________________________________________
12/22/17
Dear Bishop and Mrs. McKelvey,
Merry Christmas! to both of you from our family here in Haiti. We are so very grateful for your support and especially for your prayers as we integrate here. This week I have been able to perform some surgery with individual vet agent students which has been a blessing. This morning we removed plastic bag blockages from a goat. Its so common here, as they seek to eat anything with food content and there is so much garbage. Before getting here I finally finished reading "Walking with the Poor" by Bryant Myers. For me, the connections between our broken nature, poverty and care of the environment, and the effect on both animals and mankind
are so visible here. In the book he points out that the story of redemption is a redemption of proper relationships between man and God, each other and all of creation. It's a bit academic on development work, but I think a good reminder for all of us about the complete redemptive story of the Cross.
We are slowly learning the ways that the day to day tasks of life may be accomplished in
Haiti. So many of the small little tasks we don't even think about on a daily basis become a new learning experience as things just work differently in a different culture. Haiti is a land of so much contrast. There is so much beauty and so much desolation. Those contrasts are not limited to the physical world. There is so much inner beauty also contrasted with so much desperate need, but also abuse of power and unhealthy relationships. It becomes so apparent, that only when people's hearts seek to follow the example Christ gives, does real or lasting change happen.
Temperatures are more moderate for Haiti at this time of year. We are in the beginning of the dry season and may not see rain for a few months. Admittedly, I am finding my brain associates a cooler temperature with the Christmas season, despite the fact that someone pointed out in church a couple weeks ago that this climate is probably closer to conditions in Bethlehem 2000 years ago than what we associate with Christmas in the Berkshires.
Ethan and Lexi have been making the transition well. I know they miss friends and our horses, but they have been real troopers. They have two new German Shepard puppies that they are helping train and we are fortunate that the hospital campus has a pool that has been a big blessing for them. I know they have had a lot to process both here at the house and out in the towns. I am thankful for the peace they have been given.
In our pre-field training, we were taught that there is no one more important to preach the gospel too every day, than ourselves. So I am thankful for this season of transition, and look forward to what He has planned and to sharing that story with you. Thank you for sharing our letter.
We wish you a joyful Christmas and a blessed new year! All our best,
Wayne
Wayne Hassinger www.cvmusa.org/
Hassinger www.hassingervet.com