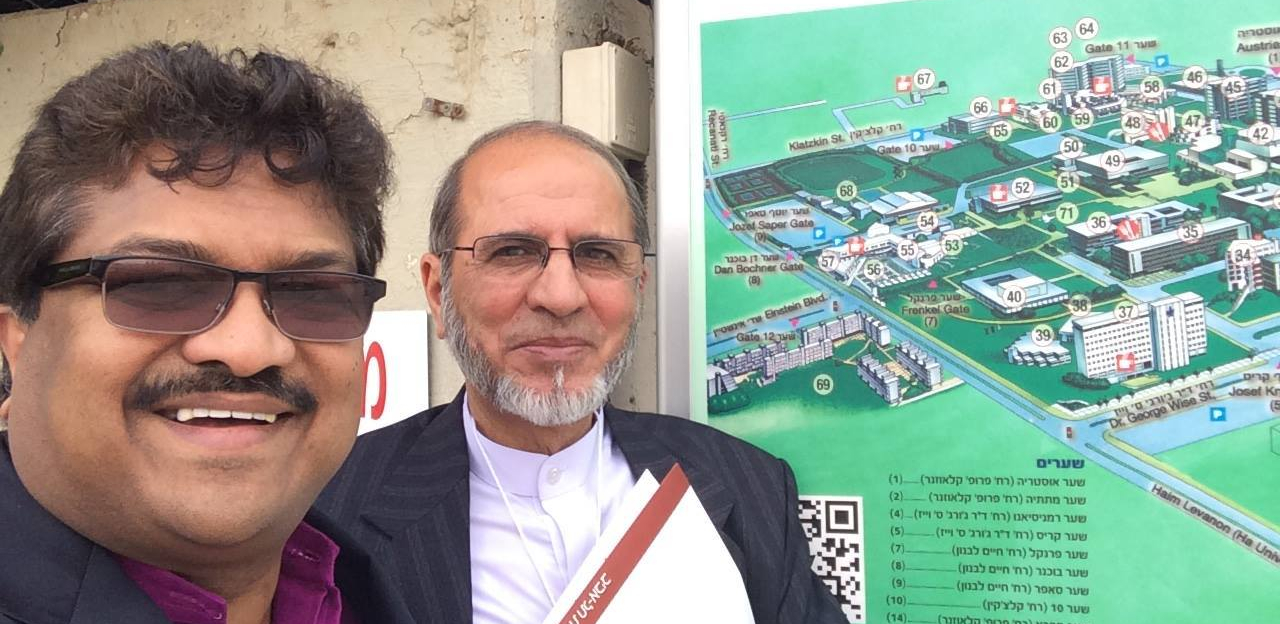 From January 17 to January 27, 2015, Episcopal and interfaith leaders are traveling in the Holy Land as pilgrims and witnesses, and to provide various forms of support for the Christian communities of the Holy Land, particularly the Episcopal Diocese of Jerusalem and its institutions. We ask your prayers for safe travels and a transformative experience on this pilgrimage, which fulfills General Convention 2012 Resolution B-019. We also pray that this experience will help bring a spirit of pilgrimage and witness to the Diocese of Rochester.
January 24
| | |
| --- | --- |
| | |
We continued in Ramallah and met with the Prime Minister of Palestine, Rami Hamalla, followed by PLO staff and a judiciary authority in Palestine. Upon reaching Jerusalem we met with the Principal Deputy Legal Advisor in the Israeli Ministry of Foreign Affairs, Tal Becker, and the American Consul General Michael Ratney. These were significant touch points of our pilgrimage connecting with people in positions of authority. Visiting with these key players to listen, and engage them as an interfaith delegation from the United States was symbolic, informative and humanizing at many levels. The act of listening with sincerity and authenticity is important in all situations and especially these. Due to the sensitivity of our subject matter in the ongoing conflict you will understand my need to refrain from disclosing the substance of what was shared at these and any meetings with government officials. Archbishop Suheil Dawani had sent one of his clergy, Father Fadi Diab, serving at St. Andrew's in Ramallah, as his representative to accompany us. We then went on a brief but intense tour of the security fence/wall, which was informative and troubling at so many levels. We finished out the evening with writers David Ehrlich and Yossi Klein Halevi at Tmol Shilshom, David's charming and enlightening restaurant nourishing mind, body and soul.
There is much food for thought with regard to the conflict and the negotiations toward finding a solution in the Middle Eastern context of trauma. When two people groups who have their stock of experiential trauma engage in negotiations it presents some complexities that are unlike many other contexts seeking practical resolutions. This certainly opened my eyes to the maze of marathon negotiations as a way to stay in conversation even with so many failed attempts because the alternative to not negotiating is to settle for passive and active aggression as the only expression of this ongoing conflict. Just out of curiosity, I am grappling with psycho-sociological questions such as: "Could there be some fear about agreeing on a peaceful solution that could leave both parties in a state with no cause to struggle toward or protect?" "Is an identity that has progressively relied on defending violence or attacking violently on both sides too ensconced in the psyche that any "withdrawal" would lead to a major loss of identity?" Just thinking… Nevertheless, I notice that taking sides on this complicated issue only ends up creating more heat and defensiveness of which there seems to be enough already.
Visit to Yad Vashem: World Center for Holocaust research was profoundly heartbreaking. It was eerie to witness the narrative and images depicting the baser human propensities that sustain evil in the name of vision. Coercive consensus is just that. Ideology has proved time and time again in grotesque ways how possible it is to normalize the evil of obliterating the God-given dignity in human beings. The Children's memorial was haunting. In the midst of this horror, the role of the people who harbored the vulnerable is a testament of timeless hope of the active presence of God. The sad reality is that negative ideologies continue to thrive. We attended Sabbath service at Kol Haneshema Synagogue followed by the most hospitable Sabbath meal at the home of Rabbi Levi and Paula Weiman-Kelman. Salaam, Shalom and Peace!
January 22
Friends, sorry about my rather long previous post! We left Tiberius (Sea of Galilee) and traveled further north toward Ramallah. We stopped at Taghba, overlooking the Sea of Galilee at the Church of the Multiplication, where the mosaic tiles seemed as old as life itself. In this iconic memory from Jesus' ministry of hospitality engaged by 5000 plus, the mosaic at the foot of the church's altar captures a dynamic aspect of this abundant hospitality I sense in the Eucharistic meal every time we break bread. The depiction of bread and fish counts off two fish that were flanking the basket of bread, which only had four pieces of bread, the fifth signifying the Eucharistic bread that the faithful partake currently when the faithful break bread here and the world over. Food for our journey!
We stopped at the Jordan, now under dire threat of depletion at many points. I am moved to realize how significant baptism has become to millions over the years whose identity in God has been recalibrated. I am humbled to sense my own life and that of millions transformed around the world in and through this simple ritual act signifying new life in Christ. 
We moved on through the West Bank to reach Ramallah in Palestine where the transformation was evident with crowded and dusty streets. Lunch with Chief Sharia Judge Kholoud al-Faquih was just mesmerizing. Here we were in a region in the Middle East which whether Jewish or Muslim, was dominated by a culture of patriarchy and were listening to a woman Judge! Judge Khouloud is just thirty six, has four children and an incredible story of courage, perseverance, hard work and a desire to be the face of a new Islamic society that is reflective of the core values of Islam. She had to do her own research of the four schools of thought accepted in Palestinian society to explain that the Quran does not oppose women being Sharia Court judges. Inspiring, indeed! We ran into another group of pilgrims from at least three dioceses from the western part of the US. It was great to see some friends and familiar faces of fellow pilgrims who were at the tail end of their immersed journey.
We spent the evening listening to an honest and helpful narrative history of the Muslim community in the US as told by their leaders. This leadership has helped define a particular brand of Islam that is reformed and indicates a desire to pursue the middle path that understands the Quran in the spirit of its text and I am sure this journey has been rough and not without considerable push back. Since 1963, and the wave of inclusion in the US, we have had well over two thousand Islamic Centers built by active communities of faithful Muslims. This is a remarkable phenomenon in itself and speaks volumes about the foundation of interfaith understanding that is quite significant for the future we build together for our communities of faith as well as for the common good. The journey continues…
January 21

We are on a journey as an interfaith learning community gently held together by the gift of particular faith paths enhanced by an organized and organic methodology of teaching, enhancing, differentiating, while seeing common and unique threads in sacred narratives, traditions and contemporary practices. We started off with some teaching from the Talmud—short stories written by a Rabbi like a piece of art—revealed to us by Ruth Calderon, a member of the Knesset. Ruth led us on a journey about a bridge-building Rabbi Zera who went back and forth between the Rabbis and the ruffians. It was not until Rabbi Zera, who was also referred to as the one with scorched short legs remembering a failed attempt at walking on hot coals, died that the ruffians would miss a mediator and repent. Ruth was brilliant in helping us to notice the movement characterized by reaching out to the "other" and also the significance of departure (in this case Rabbi Zera's death). There isn't room for appropriation of gifts by the communities served without the space created by withdrawal or pulling back. I was overwhelmed with joy to see an affirmation of Christian theology that's a dance between kenosis (self-emptying) and Kairos (God's time of abundance). The amazing thing was that the conversation moved into some jazz like synchronicity with Dr. Sayyid Sayeed identifying a similar protagonist in Abo Zar, a close confidante of the Prophet Mohammed, who similar to Rabbi Zera's scorched short legs was identified for the vulnerability he expressed in the kind of language he used to describe the "other." The Prophet gently admonished him that while practices of piety were important, they were only as important as loving actions and in this particular case wholesome speech. This went in more streams of interpretations by Rabbi Steve who replaced the ruffians with the Rabbis who were the ones who repented at the end of this iconic Talmud delight! Felt like a slice of heaven!
With a start to our spiritual and thoughtful engagement we were set for a rich journey of learning as an interfaith community. We then listened to Professor Asher Susser, Senior Fellow, Moshe Dayan Center for Middle East and African Studies at the Tel-Aviv University. This was followed by an animated engagement over lunch with Rabbi David Rosen with over thirty years of interfaith engagement experience in Cape Town, South Africa and Israel. Following this we entered a world of young adults who are experimenting with a movement in collaboration with Harvard University on teaching methodologies of negotiation. Called the Shades Negotiation Program, this is getting to some of the heart of the matter by providing practical tools for young people instead of choosing the default and often conditioned violent ways to resolve conflicts.
We ended the evening with an uplifting description of on-the-ground activism that makes visible the environment, water in particular. Elizabeth Koch-Ya'ari, a young EcoPeace activist heads up the Jordan River Projects, with a combination of direct action, education from children to adults on all sides about the need to work together and restoration of some balance in the stewardship of water. We hope to sign the Jordan River Covenant as religious leaders later in our pilgrimage.

Jan 20, we began with a visit from the US Ambassador Daniel Shapiro, who was articulate in describing the ground complexities as well as his and the US government's commitment to a two-state solution. Given the upcoming Israeli elections in March, these negotiations have been put on hold for the moment. Mr. Shapiro was a winsome and approachable leader representing our country! Next we met with former Prime Minister and President, Shimon Peres at the Peres Peace Center overlooking the Mediterranean Sea. I can only describe this as a "soulful" meeting with a statesman and a wise human being. There were many pithy pieces of wisdom from him including the gift of alluding to science as knowing no boundaries. This 91 year-old statesman reminded us that the best way to remain young is by having your dreams outnumber your achievements. I believe in the sublime and I experienced it transcending space and category. I now believe that there is such a thing as a holy politician!
We then started north for Nazareth, where we visited the Greek Orthodox site of the Annunciation, when the Arch Angel Gabriel announced to Mary that she would be pregnant and bear a holy child. A space filled with mystical icons and a spring. After lunch we headed to Safed, spelled many ways, a town on a high hill, known for Jewish mysticism (center of Kabbalah). We were blessed with a glorious sunset! Rabbi Leonard Gordon, one of our companions, led us in some conversations punctuated by a Rabbi friend of his who is taking a sabbatical in the region. They gave us meditations on Tikkun olam (Hebrew for "repairing the world"). We then drove to Tiberius and checked into a hotel on the shore of the Sea of Galilee. Rabbi Leonard continued to teach us over dinner about the two Jewish Mystical Theologies: Torah as Logos (God as static) and the ongoing Drama of Creation (God as process). Beckoning the two mystics of Judaism who are buried in this area, Maimonides 12th century, and Shimon bar Yochai, 2nd century, we delved into a dance with stories and worldviews from Judaism, Sufism, Christian and Hindu traditions. This was a splendid excursion across time, space and meaning. 
This morning, Jan 21, I woke up early to witness a brilliant sun rise at the Sea of Galilee. Today is Roja's fiftieth Birthday and wishing her from the shore of the Sea of Galilee just makes it a little easier since I am not with her. I will be doing penance for a long time for this! 
With the birds chirping away I do have a subliminal feel for the call of the disciples who were fisher folk, the women who traveled and cared deeply, the walking on water, the on looking hillside with a witness to the hospitality shared by the 5000 plus, the abundant catch of fish, the breakfast on the shore, the calming of the storm, and on and on; Lots of Goosebumps and thin spaces in a short span of time. Busy day today! Tell you about it in a while. Thank you for your prayers! 
January 20
With Dr. Mohammed Shafiq, Director of Hickey Center in Nazareth College, Rochester, NY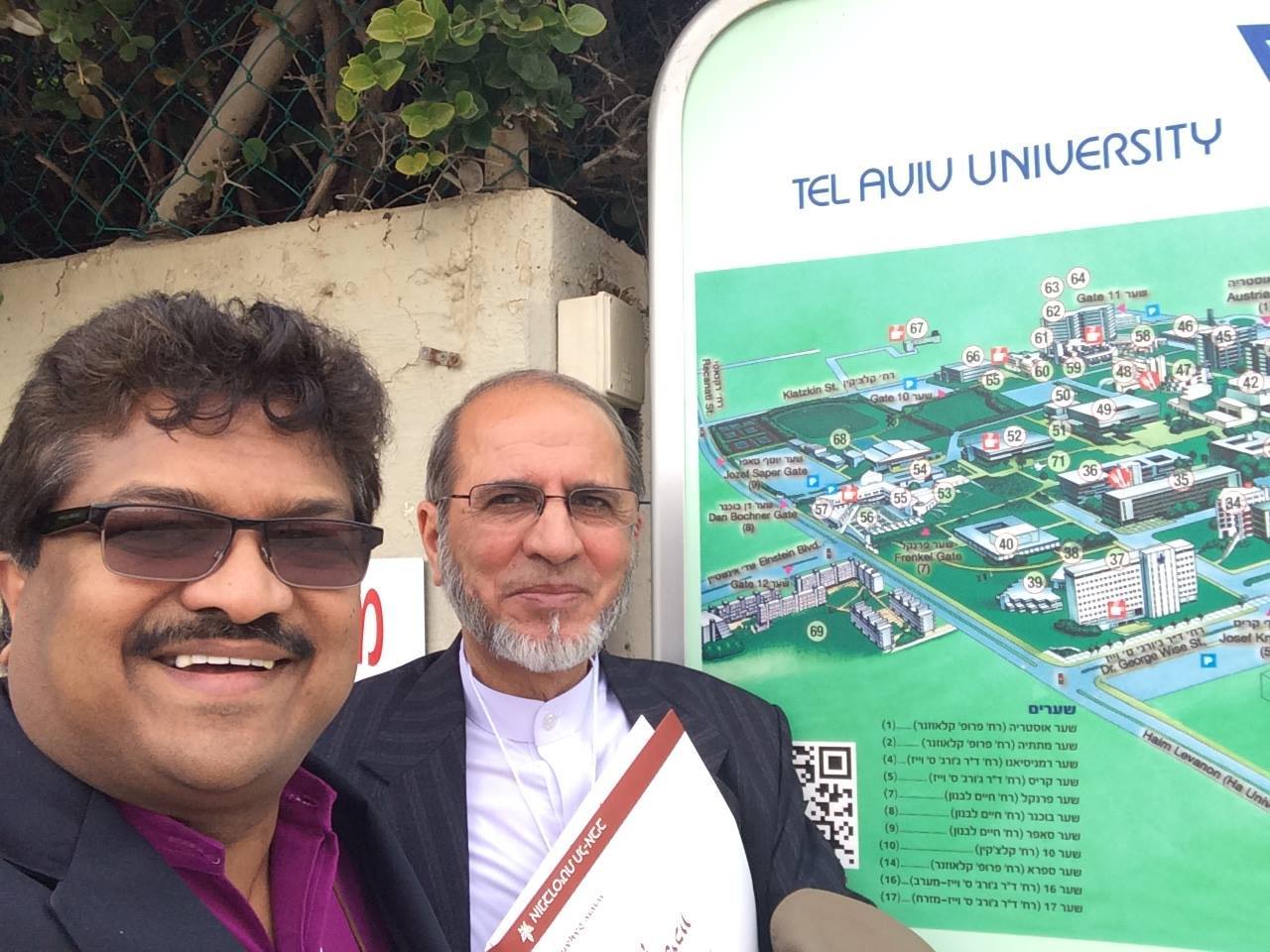 January 18 · Jaffa-Tel Aviv, Israel 
The Interfaith pilgrimage led by our Presiding Bishop, engaging Christians (episcopalians), Jews and Muslims in the Holy Land has begun. It began with one of our delegation of 16, a Muslim, being detained for interrogation for nearly eight hours. Thankfully all is well now. It was, however, a real dose of "normal" in our world today. I am thrilled that among our delegation is a hometown hero, Dr. Shafiq, who heads up interfaith work out of Nazareth College in Rochester, NY. He and I will try and do some combined reporting to keep friends in the loop. Do keep us in your prayers as we journey together in this land of significance for all three faith traditions. Salaam, Shalom, Peace!